Millennium Update: Chicago's future icon?
As if Frank Gehry's millennial monstrosity wasn't enough, Chicago's Millennium Park is bracing itself for a gargantuan sculpture by world-renowned artist Anish Kapoor. The London-based, Indian-born artist is well known for his immense sculptures that address metaphysical issues of being and non-being, presence and absence, and place and non-place. Kapoor's work has traveled internationally and his sculptures are part of art collections worldwide. The artist has exhibited at the Venice Bienniale, Documenta IX, and major museums such as Tate Modern. In 1990, Kapoor won the Premio 2000 for his installation at the British Pavilion in the 44th annual Venice Bienniale, and, in 1991, he won the now infamous Turner Prize. Although Kapoor is not as well known in the U.S. as in Europe, the sculpture in Millennium Park, slated to be finished by the end of 2004 (really?), will be the artists first public sculpture in the U.S. The proposed sculpture is going to weigh an estimated 125-tons, and is going to be a 66-foot long and 32-foot tall mirrored-steel structure that will undoubtedly mirror whatever is around it. Furthermore, The Art Newspaper says the piece will be arched upward in the middle, enabling pedestrians and park visitors to "pause in its center to admire their warped reflections in its bulging interior dome." Many in the industry are touting Kapoor's sculpture as Chicago's "future icon." The phone company SBC has contributed $3 million for the sculpture, hence the name SBC plaza where the sculpture will be placed. Kapoor's design will be fabricated by Performance Structures in Oakland, California. According to The Art Newspaper, the plan to ship the mammoth sculpture from Oakland is as follows: "Load it on a barge in San Francisco Bay, tow it through the Panama Canal, up the Atlantic Seaboard, then down the St. Lawrence Seaway across Lake Michigan and onto the Chicago lakefront."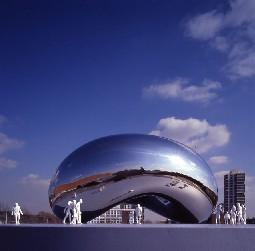 Good old Millennium Park, as can be surmised from the name itself, was supposed to be finished in 2000. The plan was to refurbish Grant Park and make it a Mecca for public activity. The main aim of the project is to fuse art, design, and public morale because, quite simply, an ice rink is not enough. Mayor Richard M. Daley has professed that the park will "become one of the finest recreational and cultural spaces of any city in the world." The Mayor further stated: "Chicago attracted 30 million visitors last year, and they pumped $9 million into the city economy. But we're not building this park just for tourists. We're building it for quality of life." And a "warped" one at that, thanks to Kapoor's future sculpture.
Although a "warped" reflection of "a certain quality of life" sounds fun, a "warped" sense of funding makes it even better. Since its inception in 1997, the Millennium Park project has grown from its original 16 acres to 24.5, and its budget from the city alone has inflated from $150 million to $270 million. Another $120 million is coming from private donors, such as John Bryan, former CEO of Sarah Lee and chairman of the Board of Trustees at the Art Institute, Oprah Winfrey, and philanthropist Lew Manilow. Further funding of $20 million is coming from an endowment.
Millennium Park will also house the above-mentioned Frank Gehry band shell that will present concerts by the Grant Park Symphony Orchestra and visiting groups programmed by the City's Department of Cultural Affairs. Gehry's band shell, with an estimated cost of $50-million dollars, will have a $3-million dollar computerized sound system "on a trellis-like canopy designed to create a hall-like audio effect." The band shell will house 4,000 seats and 7,000 spots on the lawn below. It will be named Pritzker Pavilion in honor of a $15 million gift from the family. Aside from the two major constructions, Catalan artist Jaume Plensa will create a 220-foot long video fountain (with video produced by some SAIC students), and landscapist Kathryn Gustafson will create a garden. The complete make-over of Grant Park will also include the Art Institute's future Renzo Piano building. For further information check out: Millenium Park at http://pbcchicago.com.

Top 10 exhibitions of 2003:
| | | |
| --- | --- | --- |
| Title | Venue | Daily Average Attendance |
| Leonardo: Master Draftsman | Metropolitan, New York | 6,863 |
| Thomas Struth | Metropolitan, New York | 5,790 |
| Peter the Great | Hermitage, St. Petersburg | 5,759 |
| Leonardo: Master Draftsman | Louvre, Paris | 5,511 |
| Manet/Velázquez | Metropolitan, New York | 5,160 |
| Matisse/Picasso | MoMA Queens, New York | 4,970 |
| Richard Avedon: Portraits | Metropolitan, New York | 4,932 |
| Nicolas de Staël | Pompidou, Paris | 4,576 |
| Gonzaga: The Celestial Gallery | Palazzo Té/ Palazzo Ducale, Mantua | 4,546 |
| Titian | Prado, Madrid | 4,519 |
| Source: The Art Newspaper | | |

Photography, may you rest in peace
Since painting has already been declared dead some time ago, the art world is ready for a new death in the family. British artist David Hockney has taken it upon himself to declare that the art of photography is as dead as Liberace. The statement came as a surprise since Hockney himself gained popularity through his works that manipulated photographs: the artist would use a projected image of a photograph and make them into paintings. In an interview with the Guardian, Hockney said he believed that modern photography is so "extensively and easily altered" that it cannot be seen as "true or factual." Since photography does not document the truth any longer, Hockney believes that photography, as a medium, is headed towards painting and drawing, where nothing is real. With the rise of digital processing, according to Hockney, the "chemical period" when photographers produced images in the darkroom, is long lost. "We can't go back: Kodak got rid of 22,000 people when it ended its chemical developing. You've no need to believe a photograph made after a certain date because it won't be made the way Cartier-Bresson made his. We know he didn't crop them—he was the master of truthful photography. But you can't have a photographer like that again because we know photographs can be made in different ways."
The artist also cited his sister as an active participant in the demise of photography. "My sister, who is just a bit older than me, she's a retired district nurse, she's just gone mad with the digital camera and computer—move anything about. She doesn't worry about whether it's authentic; she's just making pictures." The artist also condemned art photography as "dull."
While photography may be dead in Hockney's eyes, not everyone believes it. Joel Sternfeld, winner of the Citicorp photography prize, disagrees. In a rebuttal to Hockney, Sternfeld spoke to the Guardian. "Photography has always been capable of manipulation," he insists. "Even more subtle and more invidious is the fact that any time you put a frame to the world, it's an interpretation. I could get my camera and point it at two people and not point it at the homeless third person to the right of the frame, or not include the murder that's going on to the left of the frame. You take 35 degrees out of 360 degrees and call it a photo. There's an infinite number of ways you can do this: photographs have always been authored." The art-world jury is still on recess regarding the matter.

Iraqi-born Hadid wins Pritzker Prize, Hatoum wins Sonning Prize
While Iraq is being taken over à la Americain, Baghdad-born, London-based architect Zaha Hadid is taking over the architectural world and has been awarded the infamous Pritzker Architecture Prize. Since its inception 25 years ago, the coveted bronze medallion and a $100,000 check has been awarded solely to men. Hadid is the first women in its history to receive the award and, at the age of 53, one of its youngest. Although Hadid has been gaining notoriety for her avant-garde designs, only four projects have been built thus far: a fire station in Weil am Rhein, Germany; a car park in Strasbourg, France; a ski jump in Innsbruck, Austria; and the "urban oasis," known as the Rosenthal Center for Contemporary Art, in Cincinnati.
The Pritzker Architecture Prize was established by Chicago's own Pritzker family, who own the Hyatt hotel chain, and the jury awards the prize to living architects whose built works produce "consistent and significant contributions to humanity." Hadid's efforts within the architectural world have been lauded by the jury as a "heroic struggle." Among other things, Hadid's "struggle" is in part due to Britain's disrespect for the architect's daring designs.
While Britain may not be wholeheartedly embracing Hadid, the rest of the world certainly is. Her current projects in Europe include the main building for a new BMW plant in Leipzig, Germany, and the MAXXI contemporary art center in Rome. In Asia, Hadid has designs set for the Guggenheim museum in Taiwan and an opera house in the Chinese city of Guangzhou. In America, the architect is working on an arts center in Bartlesville, Oklahoma, and is one of the five finalists selected to design the 2012 Olympic Village in the borough of Queens in New York City. Speaking about her native city Baghdad, Hadid has commented to Reuters: "I think it would be nice to do something there eventually, only because it's actually a rather nice city." The architect also noted to the news agency that things may have changed a little in the 24 years since she was last there.
Women have been breaking down barriers in the "art's award" world this year, especially Arab women. London-based artist Mona Hatoum, who was born in Lebanon to Palestinian parents, was the first visual artist to win the esteemed biannual Sonning Award given by the University of Copenhagen. The award is given to a man or women "who has significantly contributed to the advancement of European civilization." Past recipients include Sir Laurence Olivier, Hannah Arendt, Simone de Beauvoir, Jurgen Habermas, Ingmar Bergman, Vaclav Havel, and Günter Grass. The nominating committee of the Sonning Prize praised Hatoum for her work within the cultural sphere. "In the world of culture, more specifically the world of visual arts, the British-Palestinian artist Mona Hatoum is someone who has found the most significant visual expression for the experience of 'New Europeans' as living on that unstable ground between two cultures, where you do not feel at home in either—not the one you left or fled from nor the one you have voluntarily or involuntarily become a part of."
| | | | | | |
| --- | --- | --- | --- | --- | --- |
| | | | | | |
| F Question | Mouth Off | Ink | Graphic Spot | F Gallery | Artwatch |