| | |
| --- | --- |
| Out of This (Art) World | By Michelle Zis |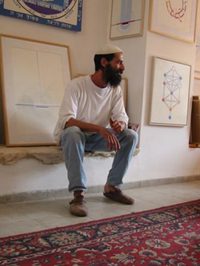 I spent fourteen days of my summer with a group of twenty twenty-somethings in Israel. For five of those days we explored the Northern Israeli town called Tzfat, an artist colony as well as the birthplace of Kabbalah. As our group wondered through the artist quarter, my new friends would ask me, "Hey art history girl, don't you love all this art?" Unimpressed by Impressionistic paintings of the Holy Land and the Marc Chagall rip-offs I responded honestly, "I'm sorta an art snob." They really didn't know what I meant by that. The group was buying prints of the Wailing Wall for their aunts, uncles, coworkers and significant others while I was stuffing my face with falafel.

One afternoon we visited Avraham Loewenthal's Tzfat Gallery of Mystical Art. Loewenthal, a self-described Kabbalistic artist, makes and sells his own artwork. Unlike my reaction to the other art around town, upon entering his gallery, I pointed to certain paintings and in perfect art world fashion said, "That's a good piece."

We all sat on Loewenthal's carpet as he explained ancient Jewish mysticism and his journey towards becoming a Kabbalistic artist. Born in Michigan, Robert Loewenthal (Avraham was his given Hebrew name) was an undergraduate student at the University of Michigan and a graduate student at SAIC. He discussed how he was on a plane to India to "find himself" before discovering that his own religion, Judaism, could teach him about spirituality.

I was surprised by how much I had in common with this guy. I, too, studied at the University of Michigan and now, of course, SAIC. Obviously, I have a deep invested interest in art and about five years ago I dabbled in the study of Kabbalah, now a household word thanks to Madonna. One thing that Kabbalah teaches is to never deem anything just a coincidence. As a result, I started to overanalyze my connection to Loewenthal and the Tzfat Gallery of Mystical Art.

Rather than getting too carried away and convincing myself to make Aliya (emigrating to Israel), I kept my art world thinking-cap on. I looked around at his artwork, and starting drawing comparisons to other modern artists. I thought to myself, "Yup, definitely see some Sol LeWitt in that painting and maybe some Op Art influence in that one," but when I raised my hand and asked Loewenthal which individuals influence his work I got an entirely different answer. He said, "I did the whole gallery thing in Chicago," but it was ultimately not for him. He pays no attention to that scene. I was intrigued by the idea that he could have been an art world player but then later choose to have nothing to do with it.

At the end of our group discussion, about five of us, including myself, purchased very affordable seriographs. At this point the tiny voice in my head asking if this is "good" art was almost inaudible. Loewenthal quickly wrapped up our purchases and sent us on our way; sundown was just a couple of hours away and we needed to get ready for Shabbat.

Ultimately, his artwork visually tries to explain an ancient text much the same way an anatomical diagram explains the body. It did not matter that I might bring this picture home and not think of it as "good" art. Sometimes art is about a moment. In that glowing studio, on that old street, in that ancient town, within the Holy Land, moments away from the sun setting for Shabbat, I was certain that it was a successful work of art. It may not be the most savvy addition to my art collection, but back in Chicago, this little Kabbalah picture is a reminder that there is a place 5,000 miles away where Madonna does not decide what is sacred and good art can be found where you least expect it.