| | |
| --- | --- |
| Recycling The World As We Know It: Dan Peterman's Plastic Economies | By Jenny Gheith |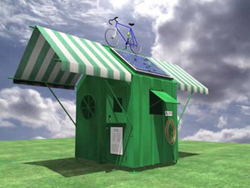 Dan Peterman is not your typical artist. Since the mid-1980s when he moved to the Windy City to attend the University of Chicago for his M.F.A., Peterman's art has explored scientific, environmental, and societal issues through his numerous projects and installations. An internationally recognized artist, Peterman remains dedicated to the city and particularly the Hyde Park community in which he lives. Surprisingly, many Chicagoans do not know who he is. Hopefully, the Museum of Contemporary Art's Plastic Economies changed all of that. Consisting of past projects and three new works, this is Peterman's largest exhibition and his first in-depth survey in the United States. Organized by Associate Curator Lynne Warren, Plastic Economies decisively pays respect to an important contemporary artist who contributes not only to the art world but to his community.

It would be too easy to simply categorize Peterman's work as being solely about recycling and reusing materials. He has a rare ability to explore pressing economic and environmental concerns without over simplifying or being pedantic; his art is accessible without being obvious. Wasted or unwanted materials are transformed into artworks that at times double as functional objects. Take for example "Thank You for Your Patronage: Chairs from Street Cart," 1989, in which abandoned shopping carts have become unique chairs or "61st Street Bottlecap Pasta," 2001-2004, in which he inventively discovers a common ground between bottle caps and pasta. However, Peterman does not stop there.

For a commission in Italy, Peterman reused a material common to the region: the rubber soles of athletic shoes and flip-flops. "Villa Deponie," 2002, a one-room, open faced house is entirely made out of this closed-cell foam and plywood. This multi-color flecked, squishy living space even comes equipped with a working lamp proving the ingenuity of Peterman's aesthetic vision.

His choice of materials is significant. Some have their own personal histories such as the discarded materials from the Universal Lab. Set up in the 1960s as an alternative laboratory for scientists beyond the control of the university, this project became too large and too expensive to maintain the vast variety of equipment. It soon needed a home. Some of it went to the Museum of Jurassic Technology in Los Angeles and the rest was left to the Resource Center. In Plastic Economies, this abandoned lab entitled "Excerpts from the Universal Lab (good humor)," 2004, is a weathered Good Humor ice cream truck which houses the meticulously categorized equipment processed by Peterman and crew. Everything from glass beakers and plastic chairs to rusted nuts and bolts cover the metal stage while an old birdcage hangs from the truck. In its third incarnation in Plastic Economies, "Excerpts from the Universal Lab (good humor)" exposes a discarded scientific lab, which has now become an experiment which never produces the same results.

Certain themes run through Peterman's career. Rats, those pesky rodents most city dwellers love to hate, are Peterman's artistic muses. In 1984 he constructed a rubber mat in their shape, while in Plastic Economies we are welcomed into their homes. For "Rathole," 1999, and "Rathole," 2000, Peterman casted their burrows in concre-te, giving a face to their underground dwellings. Greenhouses are also a recurrent theme in Peterman's oeuvre. Created specifically for this exhibition, "Carbon Bank (classroom)," 2004, invites the audience to sit on various cut tree trunks situated on moistened wood chips. In this literal carbon bank environment the faint smell of the outdoors provides an escape from the museum. Within this rib-shaped enclosure, the weathered imperfections of the bark come into focus as over time it decomposes.

Unfortunately, like a bad rock band, Peterman is more popular in Europe than in the US. Perhaps just as recyclable plastic can be remolded and turned into something new, the Chicago art world will stand up and take notice.