Lost and Found: Ordinary/Extraordinary Stuff at Intuit

Jenny Gheith

Image courtesy of Intuit: The Center for Intuitive and Outsider Art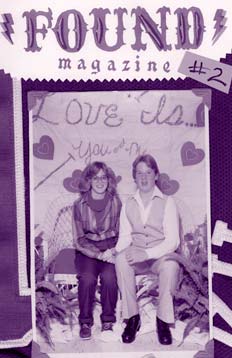 On opening night of the show Found: the Magazine, the Stuff, Intuit Gallery was packed and so were its walls. Found magazine, that wildly entertaining publication which fills its pages with other people's stuff, literally exploded all over it. A welcome note from Stuff founders Davy Rothbart and Jason Bittner explained that the show is a form of show-and-tell, a small portion of what they receive each week from their readers, fans, and people who are overcome with an inexplicable fascination with other people's discarded stuff.
To reinforce this point, the finds are accompanied by the envelopes in which they have been sent in and notes from their senders. Nothing is too trivial or too ordinary to miss the cut. Cluttered with old love notes, high school dance photos, to-do lists, grocery lists, and lost-and-found posters, the walls of Intuit burst with emotion, passion, pride, and the monotony of the everyday. Remnants from their recent Polaroid project were also included and make for some of the most memorable works.
Like an anthropological experiment, Found presents us with a glimpse into the lives of others, and it is amazing how easily we recreate these people and their lives from scraps.
One of my absolute favorites was a sign for a lost bear that answers to the name Huck. Pictured standing on the grass is a teddy bear whose once white and fluffy fur has turned grey and matted from wear. Another curious piece was a moving sale sign that simply states, "Nerds Leaving Town. Buy Their Stuff." Also intriguing was the Bad Girls Alphabet which begins, "A is for alluring" and ends with "U is for uncensored" and "Y is for yummy." Perhaps my favorite was a yellow Post-It note sent in by a South Dakota inmate found inside a library book with a poem by a true romantic. I won't recount the entire Byronesque work, but just to whet your whistle, this is the most memorable line: "I love you more than life it seems, I love you more than pork-n-beans."
While the finds are fascinating and strangely addicting, the highlight of the night was definitely founder Davy Rothbart's presentation. Taking the stage carrying a dark green duffel bag and dressed in a white furry jumpsuit equipped with a hood and high-water pants, he disarmingly began, "I can explain."
Apparently a friend of his found this suit by the train tracks near her house--what she was doing out there he had no idea--and thought it would make the perfect New Year's outfit for him.
And, well, I guess he has become a bit attached to it.
After explaining how Found began, he opened his bag and shared some of his favorite finds. These ranged from a little boy's plan to destroy his brother: "1. wait until he's asleep, 2. make sure he's asleep, 3. put his hand in warm water, 4. total humiliation," to a loving inscription to one man's parents on the title page of the Communist Manifesto, which would help them understand him better.
Davy decided to stress Found's community effort--and how much fun the whole venture is--by passing out three days' of his parents' mail (roughly 65 pieces) for the audience to open. After strict instructions to keep the return address intact and to mark the envelopes with an asterisk or "cm" (cover material), we tore into our envelopes. Some of the audience members got up and read from their finds. Perhaps the best was an advertisement for the Famous Joezino who offers his services if your house is haunted or if you are having problems with demons.
Supposedly he also knows the future. After spotting a number to call, Davy, to loud raucous laughter, actually dialed using someone's cell phone and left a message.
Mid-presentation Davy was interrupted by an amazing Found experience. A tall middle-aged man with reddish-blonde hair took the mic and explained that one day his niece pointed to a picture in a magazine and asked if it was him. To his surprise, he realized that a photo of him from a 7th grade dance had made the pages of Elle Teen. This was his first introduction to Found magazine. At the opening he again discovered that he was in another issue of Found: This time, however, he took a starring role. Yes, decked out again in his 70s finest, this time in a photo from his 8th grade Valentine's Day dance, he graced the cover of the second issue. He had an odd legendary feel about him without quite knowing what he had done to deserve this new-found fame.
Davy and Jason also generously placed within the exhibition a peek at how it was all done "with scotch tape and scissors," exemplified in the first twenty-seven pages of their book. Starting with the note that made it all happen one snowy night in Chicago, a note that was meant for Mario but somehow ended up on Davy's windshield, every page has that easy-going, do-it-yourself look about it. The extreme popularity of reality television proves that we are all obviously obsessed with other people's realities, but Found magazine seems to exude a certain unabashed sentiment that doesn't seem as obtrusive. Mired in the everyday, one man's trash is definitely another man's treasure, one that he can share with the world of Found.
February 2005