SEARCH
FULL EDITION May 2006
OUR NEWSLETTER!
CHECK OUT F ZINE
FZINE: a place for high school students and teachers to read, interact, and contrbute. LAUNCH
CHECK OUT THE EDITOR'S PICKS FOR MAY !
Gods Among Men
F has made a major commitment to its website in the past two years. Unlike other college newspaper sites, which use publishing services such as College Publisher...
Chemical Attack: Sharp Bldg
The dizzying stench in the Sharp building at 37 South Wabash is still there and doesn't seem to be going away anytime soon. After exhaustive efforts by the administration...
BFA Show Review
The tiles were the right kind of grimy white, the toilet paper was stacked just so on the rattling register, and the stall doors creaked eerily in the slight breeze. I was bowled over...
Karen Finley Interview
...The king-size bed has a turquoise and aqua woven bedspread that must know semen as a spray starch. I try not to think about it. On the side of the room...
Immigration Bill
The sense of community permeated the protest, as entire families converged upon the Loop, waving flags and banners, cheering, and celebrating the media presence...
Andy Warhol's Dark Side
Supernova doesn't consume the first floor galleries at the MCA like one might expect, given all the ads around town. Instead, the show's 27 paintings are nestled way up on the fourth...
May Comics
The demon Hiranyaksha steals "BHU" (Sanskrit for Earth) and Submerges her in deep water but Lord Varaha Rescues BHU. SSSSSMMAACK!!!
CHECK OUT THE MAY WEB EXCLUSIVES !
Spotlight on:

SUMMER


New articles, SAIC student pictures and narratives all centered on the season...
| | |
| --- | --- |
| | Lower Layer A blog that tests the depths of world news and politics. Cartoon Controversy... |
| | |
| --- | --- |
| | INK Online literary publication loaded with art, poetry, prose, nonfiction, and text art... |
| | |
| --- | --- |
| | Video Artist Profiles Five featured video artists from SAIC and Chicago Art Department. |
New comics by Hugo Ballz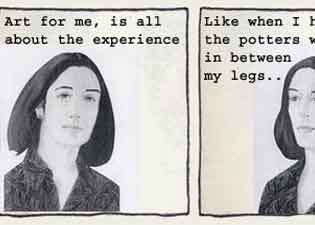 | | |
| --- | --- |
| | Student Spaces Put your finger on the pulse. View their webpages and read their blogs. |
| | |
| --- | --- |
| | Faculty Spaces Check out new faculty blogs and webpages here at F Online! |
| | |
| --- | --- |
| | Student Exhibitions & Events Check out the Selfish Exhibition at G2 and upcoming events! |
| | |
| --- | --- |
| | Chicago Vowel Movers The latest news in contemporary poetry and fiction |
| | |
| --- | --- |
| | Laugh Track Tired of dark arts? Take a break with comics and animation. |
| | |
| --- | --- |
| | F ZINE SAIC's youth journal, find inspiring art and writing created by teens |