And Now...Here's What's Going On:

I know, I know, I love Ira Glass too.
The wonderchild of public radio will be appearing at the Chicago Theatre on Thursday, March 1, 2007, where you will be able to scream and shout his name until he decides to record an interview with you about the time you tripped on the sidewalk and a circus clown helped you to the hosptial. Your dreams will come true. go to ticketmaster for tickets, although I couldn't find 'em, so maybe they sold out. Man people love this guy.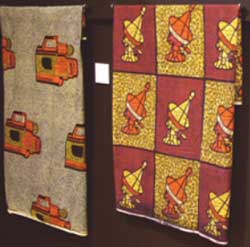 An African Market
As part of the exhibition Africa dot Com and the African Heritage Celebration, the African Market will include vendors of all kinds selling goods from Africa and the diaspora. Fri., February 23 10 am – 5 pm. Conaway Center at Columbia College, 1104 S. Wabash Ave.
A New Institutionalism? Where Artists and Curators Meet
You might be asking yourself, what is "new institutionalism"? Instead of looking it up on wikipedia, a visit to this panel symposium should suffice. Panelists will be exploring where art schools are going, what art schools are, and what artists and curators can do together to promote new visions of curatorial and artistic practice. Panelists include curators, deans, and professors from schools such as Calarts, California College of Arts, Bard College, MIT, along with our very own Lisa Wainwright. Sat. February 24, 9 am – 1 pm, Columbus Building, Performance Space, Lower Level. Admission is free to SAIC students, faculty and alumni. Admission for students is free, public admission is $10. Advanced registration is required. To make your reservation or for more information call 312.443-3711.
Shows: Robert Heinecken: Sex and Food, Misty Keasler: Love Hotels, and Larry Sultan: The Valley

Right down the street, you'll find some pretty sexy shows (well, sort of…if you think prostitution is sexy), so get down to Columbia College with that new guy/girl in your photo class and get your schmooze on. Museum of Contemporary Photography, through March 17, 2007.

Women on Being Women and Girls
Women and Children First, a great Andersonville bookstore, will host a reading of the book Growing Up Girl: An Anthology of Voices from Marginalized Spaces, from GirlChild Press. This anthology features poems, essays and short stories documenting the journey from girl to woman, as told by myriad women who've taken just that journey. Pictured at right is the anthology's editor, Michelle Sewell. (Friday, February 16, 7:30 p.m., Women and Children First Books, 5233 N. Clark Street)
Africa.Dot.Com: Drums to Digital

On this one, I'm just gonna give you what I got: "The exhibition presents a changing Africa that is increasingly being influenced by technology. Against the backdrop of traditional expressive modes, curator Deborah Stokes maps the appropration of global communication and its effects on dance, cloth, and other forms of material culture." Whew, but it sounds cool! (on view January 15 - February 28, Opening Reception: Thurs., Feb. 1st, 5 - 8pm, Glass Curtain Gallery, 1104 S. Wabash, Mon.,Tues.,Wed., Fri. 9-5, Th. 9-7)
Essential Art House: 50 Years of Janus Films at the Music Box Theatre
If you know your Bergman from your Bunuel, it's partly due to Janus Films, which has restored and collected some of the best films of the 20th century. The Music Box is playing an incredible variety of these films through March. They've also got midnight movies, weekend matinee movies, and everything from Clue to Zazie in the Metro. (3733 N Southport Ave, 773.871.6604, through Sunday March 11th)
Music, Murals and Graffiti in Humboldt Park
This is a shout out to all Hip-Hop, Punk Rock, Graffiti and Performance Art aficionados! Public Image Enemy is collaboration between artists showcasing graffiti art, stencil art, silkscreen art and hip-hop/urban/punk/experimental/underground rock. Emcees, deejays, and beat-boxers galore! Come rock with us (if you're serious about earning some street cred, that is) on Saturdays from 1-5 at 1103 N. California Ave. in Humboldt Park.
special thanks to Caroline Ewing, who scours the wire like a madperson!