Open and Shut
by Caroline Ewing

Amanda Ross-Ho and Joey Fauerso
gran-abertura (great opening)
It is easy, It is good at Western Exhibitions
Western Exhibitions is tucked away in a large, yellow, loft-warehouse set back from the street in Chicago's "Industrial Corridor," a neighborhood still dominated by steel plating industry and box factories. The gallery, open since 2003, lies firmly off the beaten track away from the West Loop Gallery District, but is part of the similarly-named West Town Gallery Network, a far-flung group of galleries (mostly young), that have sprung up from Bucktown to the edges of the West Loop.
Amanda Ross-Ho's installed environment is strange. Gran-abertura is, among other things, a phenomenological puzzle that begins by confronting you with a confusing physical reality, but soon after, reveals itself to be mildly comforting and familiar. Part domestic-clutter left in the attic, part hardware-store aesthetic, and part taxonomy of everyday objects, the installation makes it clear that Ross-Ho is interested in tweaking both your intuitive and perceptual knowledge. She does this, however, with an economy of means. The key materials in gran-abertura are canvas, sheet-rock, wood, Xeroxed images on 8 1/2 x 11 pieces of paper, brown, black, white. In her statement for the piece, she writes, "WE CAN'T GET ENOUGH, BECAUSE THERE'S TOO MUCH." So, the solution Ross-Ho finds in gran-abertura,is to not give us much of anything at all—sort of.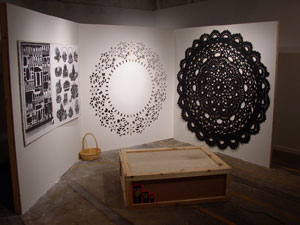 installation view of "gran-abertura" by Amanda Ross-Ho
Upon entering the gallery, an imposing bright-white tripartite panel structure dominates the room, its two outside panels folded forward in a manner reminiscent of a science fair booth. Giant circular doily patterns cover two of the panels. These patterns are negative images of each other; one is made of painted black canvas, and the other is cut into the sheetrock structure itself. The third panel is covered with blown-up Xeroxes showing a typology of different kinds of drinking glasses and gift baskets full of fruit and cookies. A large wooden crate (the kind often used for shipping art) positioned awkwardly in the center of the "booth" completes the viewer's immediate impression of the piece. There is seemingly nowhere to go and nothing else to see as the crate lies flat at your feet, demanding that visitors maneuver around it, and the clean, spare, distribution of materials leaves one wondering where to go next.
Fortunately, this is only the beginning. The "booth" is backed up against one of the gallery walls, and a quick glance behind reveals a clue; a canvas apron is casually hung on a tack. Beneath, a pair of beige Vans sneakers are carefully propped up, toes to the floor, and a little pile of folded cloth napkins nuzzles up to the shoes inconspicuously. Upon further investigation, there is a whole other world just on the other side, "backstage." Following a narrow alley-like path between the "booth" and the gallery's white brick wall, this small unlit rear area contains an inventory of found objects, any of which could have possibly appeared on the other side, "on stage."
About two dozen large clear-glass vessels of all kinds are lined up neatly against the panel which has been cut into with the doily pattern. Light streams through the pattern onto the glassware and floor, perking up the drab, cluttered space with a sentiment of domestic decorative warmth. Adding to this contrived feeling are ceramic and wicker baskets that lie here and there, but do not be confused; even back here in the attic-like dimness, everything has been carefully selected, from the small gold doily taped on the wall to the segments of 2 x 4s that lean casually in the corner. Canvas-like objects are covered with large Xeroxes of more taxonomies of fruit baskets, drinking glasses, trashcans, lids, and industrial shelves. These sets of impersonal objects are reassuringly familiar; they make it easy to share a small, awkward space with ceramic baskets and an unnerving doily-light streaming in. The found images and objects are the result of a sieve-like process from the outside world to this inside world, and Ross-Ho makes us aware that even strange things can serve to reassure us within a confused perceptual experience. She evokes from us a specific set of perceptual emotions, including intimacy, which she is trying to prove she can do even with second-rate Xerox of fruit.
In gran-abertura there are mixed messages of safety and danger, home and away, hard and soft, black and white, in and out, but this is not an exercise in duality; in her installation Ross-Ho is conducting an experiment on behavior and intuition, and we are the lab rats. She is economizing emotion by being thrifty about visual cues. How little fluff, color, or give can there be while still providing an "interesting" experience for the human who encounters and must deal with the given space? Ross-Ho might be the art-child of Hans Accola and Jessica Stockholder, but instead of painting with objects she is forcing us to deal with eerie, distantly familiar, and ugly objects, and watching our reactions closely.
In the small project room, Joey Fauerso's It is Easy, It is Good consists of three parts: there are the 80 painstakingly well-crafted, painted portraits of a man's head against a white background, hung in a large grid, followed by thirty-two blue watercolors hanging in a similar grid. Thirdly, both of these paintings were filmed, and made into a projected animation. In the animation, a 45-second loop shows the man's facial expression change from blank neutrality to a wandering gaze, blinking, mild surprise, coyness, and finally pleasure.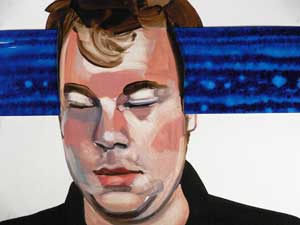 detail from "It is easy, it is good"
by Joey Fauerso, acrylic and oil on paper
Seeing the actual paintings and watching him change slowly over the course of the grid allows for two different ways reading the same process. The blue watercolors function by interrupting the sequence as an unexpected bright blue bar passes through his head, and "he" (his portrait) stops moving for 10-seconds before moving on. All the while, an upbeat polyrhythm and a meandering pleasant whistle emanate from the projector, giving an air of light-heartedness to the dense, well-crafted nature of the piece and making it easier to feel that It is Easy, It is Good.