| | | |
| --- | --- | --- |
| CHECK OUT THE EDITOR'S PICKS! | | CHECK OUT THE WEB EXCLUSIVES ! |
Sun Ra at the Hyde Park Art Center
by Linlin Chen
The Hyde Park Art Center (HPAC) always contributes to the visual arts in Chicago by stimulating and sustaining it. Six years ago, when one of the curators, John Corbett, learned that the artifacts from Sun Ra's years in Chicago were uncovered in an old house and nearly discarded, few expected the collection to appear in a show. In fact, it took John Corbett and his wife, who is also the show's co-curator, together with other staff and volunteers nearly six years to arrange, categorize and document the artifacts. And now, from October 15, 2006 through January 14, 2007, HPAC offers a landscape of Sun Ra's Chicago years, along with a series of interactive programs.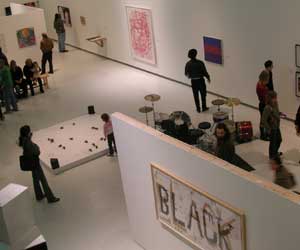 Sun Ra at the Hyde Park Art Center
Sun Ra (1914-1993) was a musician and composer whose body of work defies categorization. More than just a bandleader, a visual artist, a poet, and a philosopher, Ra was an influential force in the Chicago music scene. According to Douglas R. Ewart, composer, musician, visual artist and adjunct professor in the Liberal Arts Department at the School of the Art Institute of Chicago, Ra's musical work and philosophy inspired numerous musicians who came to Chicago before starting their professional careers in New York. Ra developed and acted out his own mythology, enabling a free and ceaseless exploration of new ways to make sound. He was, for example, one of the first musicians to take an interest in electronic music.
On Oct.15, 2006, from 3:00 PM to 5:00 PM, the Hyde Park Art Center dedicated itself to Sun Ra. The opening event integrated exhibition and performance, featuring Sun Ra's original artifacts and other artists' works inspired by Ra and his music. Among these performances, for example, was a 45-minute dynamic drum show.
Gallery 1, HPAC's largest exhibition space, housed a group exhibition entitled Interstellar Low Way, curated by Anthony Elms and Huey Copeland. The exhibition presents over thirty artists and their works, ranging from drawing, painting and sculpture, to neon-installation and video. Though Sun Ra didn't receive much recognition during his lifetime, he is credited with inspiring a number of artists when "a rash of CD re-releases" occurred in early 1990s, according to the curators. In addition, the curators stated that the exhibition "explores Ra's evolving legacy in the visual field". Through these works, there grows a multimedia sense for Sun Ra's enriching influence upon the visual culture of American society.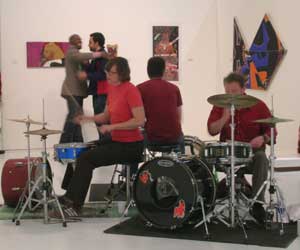 In Galleries 2 & 3, Le Conqueroo: Part 3. Defeat thus the Magpie, Herald of Satum, Rider of Leviathan, 9 choirs are presented by Academy Record, a group of artists led by Steve Lacy, who work in mixed medias. The presentation offers up a fabulous drum show in three places inside the center, fabricating a vivid atmosphere for the whole event. The flyer says "According to Academy Record, the artwork here is the activity of the individual's experience and conclusions raised through this experience, and not necessarily the objects on display." Their drum creatively responded to Sun Ra and his band, Arkestra.
On the second floor, Gallery 4 housed an exhibition entitled Pathways to Unknown Worlds: Sun Ra, El Saturn & Chicago's Afro-Futurist Underground, 1954-68, curated by John Corbett, Anthony Elms and Terri Kapsalis. This exhibition is one of the most successful features of the program; it showcases a great number of Sun Ra's original manuscripts, drafts, drawings and prints for his album, most of which have never been published. Highlights in the exhibits include a dictionary of the terms Sun Ra and his secret society created, and original drawings for his mid-60s albums. According to the exhibition pamphlet, "The Sun Ra presented in this exhibition is not yet the flamboyant, colorful, outsized trickster bandleader and showman he is remembered as today, but it was in Chicago that these aspects of his persona were germinated".
HPAC also produces a children's program, Angels and Demons at Play, which includes a selection of artwork by children who've been engaged in a course of study involving Ra and his music.
According to Professior Ewart, music is the alpha and omega (the beginning and the end), a multi-dimensional art form that can incorporate singing, dancing, performance, painting, sculpture, and more. This sort of far-reaching vision and potential becomes apparent while viewing this collection highlighting Sun Ra's influence.
Ongoing programs at HPAC will include film screenings and exhibition tours.