Noteworthy Calendar
December/January
galleries & exhibits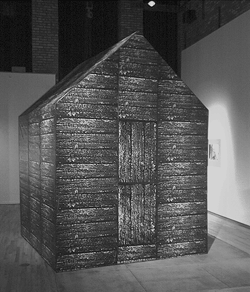 courtesy of Gallery 312
THROUGH DECEMBER 22

Musings: Contemporizing Tradition
< Gallery 312
Gallery 312 presents an exhibition of "works exploring an historical idiom through the use of traditional techniques and materials, and more conceptual ideas rooted in cultural practices or traditions." Musings includes works of installation, sculpture, painting and photograms. Included is a porcelain soup tureen by Cindy Sherman onto which Sherman's image of herself as Madame de Pompadour has been silkscreened, and Christine Tarkowski's Cabin comprised of photo-screened wood-grain shingles that recreate terrorist Theodore Kaczynski's hermit shack.

Gallery hours are Tuesday-Saturday, 11 a.m.-5 p.m., Gallery 312, 312 N. May Street, 312-942-2500, www.gallery312.org.

THROUGH JANUARY 5

Oli Watt:
Can't Get There From Here
NFA Space
Oli Watt modifies ordinary imagery to question the viewer's interaction with the world around him or her. His work challenges notions of normalcy and the everyday, as well as one's relationship to a seemingly familiar environment or regular routine. Can't Get There From Here features new work from Watt, as well as a video collaboration piece with Gabe Fowler.

Gallery hours are Tuesday-Saturday, 11 a.m.-6 p.m. NFA Space, 119 N. Peoria Street, 312-491-0236.
performance & theater
DECEMBER 14-JANUARY 6

Waving Goodbye
Steppenwolf Studio Theatre
Jeremy B. Cohen directs Jamie Pachino's Waving Goodbye which follows Lily Blue, a 17-year-old photographer whose father is killed in a mountain-climbing accident, leaving her to mourn and explore her relationship with the mother who abandoned her. Pachino's story of human struggle and enlightenment is touched with humor and honesty. This is the play's world premiere.

Performances are Thursday through Saturday at 7:30 p.m. with matinees on Saturday and Sunday at 3 p.m., except Sunday, December 16 at 6 p.m. at 1650 N. Halsted Street. Admission is $24-$27. For more information call 312-335-1650.

JANUARY 24-27

Boxing 2000
Athenaeum Theatre
Set in New York City, Richard Maxwell's latest theater piece, Boxing 2000, examines a Latino family and their relationships after one brother loses his job and takes up boxing. Maxwell creates his works by observing individuals and turning their stories into unique theatrical experiences. His signature is the slow-moving and monotone actors he creates - everyday beings that you might see in the grocery store or an elevator.

Performances are Jan. 24 at 7:30 p.m., Jan. 25 at 8 p.m., Jan. 26 at 8 p.m., Sunday, Jan. 27 at 4 p.m. at the Athenaeum Theatre, 2936 N. Southport Avenue. Admission is $20. Visit www.pachicago.org for more information.
music
DECEMBER 14

A Special Christmas Show
with El Vez
Double Door
A performance by the self-proclaimed "Mexican Elvis" reportedly entails numerous costume changes, campy backup singers and Elvis and non-Elvis songs. The Christmas with El Vez Tour boasts new songs, new costumes and new surprises, as well as old favorites like "You Ain't Nothin' but a Chihuahua." Trademark visual spectacle aside, El Vez also uses humor (sometimes by rewriting Elvis lyrics) to promote pro-Latino politics.

Double Door, 1572 N. Milwaukee Avenue, 773-489-3160, 9 p.m., $12 advance, $15 at the door.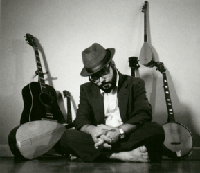 oRSo

DECEMBER 19

oRSo and Sin Ropas
Schuba's
Two of the numerous (and seemingly ubiquitous nowadays) bands spawned after the demise of Red Red Meat continue to explore and push beyond Red Red Meat's country-tinged, emotionally complex music. oRSo's experimental sound is banjo-driven and complimented by such nontraditional instruments as the typewriter and toilet, while Sin Ropas shape their songs from melodicas, slide guitars, archaic synth and haunting vocals.

Schubas Tavern, 3159 N. Southport Avenue, 773-525-2508, 9 p.m., $8.

lectures & readings

DECEMBER 13

James Welling
Museum of Contemporary Photography
Photographer James Welling will speak about his ongoing exploration of light, beginning with his early-1970s color Polaroids to his recent series entitled "New Abstractions" of black and white photographs made by projecting digitally-rendered negatives of photograms.

Museum of Contemporary Photography, Columbia College, Hokin Auditorium, 623 S. Wabash Avenue, 6:30 p.m.

film & video

THROUGH DECEMBER 19


photo by James Gustin and Michele Moore Gustin

Wedding Video: Projection
Hyde Park Art Center
James and Michele Gustin drew from their extensive archive of actual wedding footage to construct an installation that combines video projection, still photographs and audio to examine the acts of love, marriage and ritual in the context of the American family. Idiosyncracies reveal each family's unique approach to the wedding. Wedding Video also considers the relationship between wedding photographer and subject. It brings to light the way in which the profession is often undervalued, and reveals that such work is actually imbued with a notable amount of subjectivity that undermines the popular view of such photographers as documentarians that assume a distant position from their subjects who expect them to disappear into the crowd.

Gallery hours are Monday-Friday, 9 a.m.-5 p.m., Saturday, 12-5 p.m. Hyde Park Art Center, 5307 S. Hyde Park Boulevard, 773-324-5520, www.hydeparkart.org.

DECEMBER 29-JANUARY 10

Werckmeister Harmonies
Facets Cinematheque
Béla Tarr's Werckmeister Harmonies (2000) follows residents of a remote Hungarian town whose isolate, melancholic lives are disrupted by an outsider. Tarr is perhaps best known for his film Sátántangó (1995), a key film of the 1990s that addresses post-communist Eastern Europe.

Facets Cinematheque, 1517 W. Fullerton Avenue, 773-281-9075, www.facets.org.