REVIEW

Zeno at 4 a.m.(performance)
Shadow Procession (film)
MCA
220 E. Chicago Ave.
---
Staging the Artist's Vision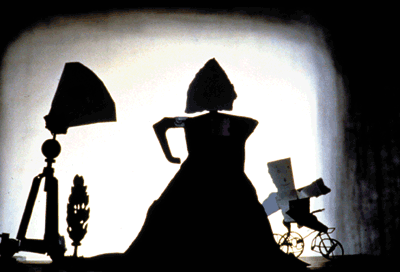 Theater has historically been a collective event where actors and audience alike can explore emotions and beliefs through an experience of poetry, dance and music. The ultimate product of great theater is a cathartic experience for the audience. Hoping to experience this emotional phenomena, I ventured to the MCA on the first weekend of November to see the Chicago premiere of Zeno at 4 a.m., a play directed by South African artist and filmmaker William Kentridge, and performed by the Handspring Puppet Company and the Duke Quartet.

Once the dressed-in-black art crowd had settled into the theater at the MCA, the evening began with a riveting performance of "Hunting: Gathering (String Quartet No. 2)," a piece written by South African composer Kevin Volans. The passionate performance of Volans's "Hunting: Gathering" by the Duke Quartet was an appropriate prelude for the evening and relaxed moods for the slow contemplative film, Shadow Procession, to follow.

Shadow Procession, a piece which is also being shown in the exhibition of Kentridge's work in the main galleries, is a seven-minute 35-millimeter animated film that depicts a procession of strange anthropomorphic shadow figures slowly struggling to advance through a deserted landscape. Similar to many of Kentridge's earlier films, such as Johannesburg, 2nd Greatest City After Paris (1989) and Mine (1991), Shadow Procession's narrative revolves around the unforgiving South African landscape and the histories buried within it. The cavalcade of tree-like figures that endure this desolate terrain carry objects that are both heavy and massive, but are virtually indistinguishable. It seems as if the shadow people are being forced to relocate and we are forced to witness this painful displacement. Unlike the scenarios in which figures are morphing into ephemeral landscapes in Kentridge's other films, Shadow Procession shows figures that are awkward, static and battling their environment, figures which refuse to flow easily through time and space, and linger in a landscape that one could only imagine experiencing in a dream.

The feature performance, Zeno at 4 a.m., a multimedia oratorio which featured live music by the Duke Quartet and the creative manipulations of the Handspring Puppet Company, used Kentridge's aesthetic to portray the story of one man's night of coming to terms with existential angst. Made up of intensely emotional, often humorous dialogue between actors, puppets, projected visual imagery and live and recorded music, the performance was a spectacular display of many artforms and genres working together.

The libretto for the piece, written by Jane Taylor, is based on "The Death of My Father," an excerpt from Italo Svevo's 1923 literary masterpiece Confessions of Zeno. Svevo's novel explores the protagonist, Zeno, and his reaction to the recent death of his father. Zeno, an obsessive man with remarkable self-knowledge, lies awake at 4 a.m. trying to conquer self-doubt and think through his inability to quit smoking, making such declarations as: "With a life without wine and cigarettes I feel that I am cheating death; and I am cheating life." Zeno's disposition ranges from witty to melancholic, and he only seems to find comfort in the uncertainty between these moments.

The performance began with Zeno (played by David Minnaar) talking to himself aloud and pacing around his tiny bed. This monologue proved Zeno to be intelligent, articulate and crafty with the spoken word. Though, his mastered tongue became worthless once Zeno's father (played by Otto Maidi) entered the scene and tried to communicate with his son. Zeno's eloquence failed him at the moment he needed it most; ironically, Zeno was damned to be misunderstood by the man he wanted to understand him the most - his own father.

During the dialogical tussle between Zeno and his father, the Handspring Puppet Company manipulated small-scale jointed paper figures in the backstage. The puppets, acting as a silent, mimetic chorus to the actions of Zeno, were simultaneoulsy filmed and projected onto a large paneled screen just behind the tormented father and son. These humanoid figures, which looked like futuristic Mad Max constructions, simulated industrial machines.

As communication between father and son turned futile, the father lay on the bed, at first to rest, and then to die. Unexpectedly, the death of Zeno's father summoned life from the shadow puppets. Once flat and awkwardly moving through an uncertain landscape, the shadow puppets (with the help of actors and costumes), came to life and advanced in a procession of song and dance around Zeno and the bed that held his father. The animated figures were no longer unconscious aberrations on a two-dimensional screen, but active participants in a reality shared by Zeno. This inspiration of the shadows' life cued the end of the show.

For the past 15 years the Handspring Puppet Company and Kentridge have created compelling multimedia theater works that transform the psychology of life in post-apartheid South Africa into universal themes. While much of the symbolism and metaphor at play in Kentridge's theatrical work remain ambiguous, they create mysteries that are compelling and beautiful. A satisfying catharsis seemed to have been achieved, for the crowd greatly applauded as the curtain fell after Zeno at 4 a.m.

Presented by MCA Performances, Zeno at 4 a.m. was produced as part of the William Kentridge survey exhibition currently at the MCA until January 20, 2002.

Unfortunately, no future performances of the piece are currently scheduled.
Image courtesy of the MCA Chicago