School News
Van Gogh: War? No!
Students Celebrate Legacy of Pacifist Artist
"We of the Post Impressionists for Peace recognize the tremendous courage and fortitude it takes to present a retrospective of the work of Vincent van Gogh in this time of national crisis. While many public institutions are shying away from opinions that might be construed as expressing dissent, this exhibition stands as a beacon of free speech. We are moved by the sincerity and spirit of generosity that surrounds the effort to bring these works to a wide audience, works which embody ideas of freedom and dissent."
-The Post Impressionists for Peace press release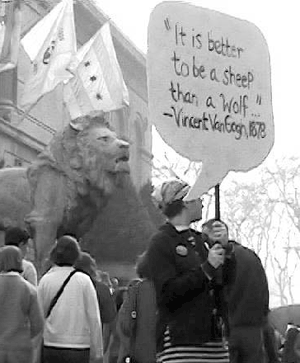 On the morning of November 17, as I made my way towards the steps of the Art Institute I began to hear shouts from down the block. "Stop the war, end racist attacks and defend civil liberties!" Closer to the museum a long sign became visible: "Van Gogh: War? No!"

Arriving at the steps of the museum, which had a special barricade erected for the occasion, I was offered an array of cookies - resembling sunflowers and bloody ears - buttons and postcards. The Post Impressionists for Peace, an offshoot of the SAIC Activist Student Union, were in full effect, working the crowd and ruffling the Art Institute's feathers.

"It was an action to reach people, a celebration of radical pacifism and a way of voicing our opinion against war," said Wafaa Bilal, as he took a Polaroid of me posing next to a van Gogh look-alike in a green jacket. Visitors streamed through the small openings in the barricade towards the sold-out museum show. The Post Impressionists consoled those who were not able to buy tickets and engaged passersby with talk of war, politics and post-impressionism.

Chris Bravo, a student activist and member of the Post Impressionists said, "We just wanted to come together as a community in support of this very controversial exhibit of radical pacifism."

Another part of the press release by the Post Impressionists states: "Van Gogh would rebel against the 'consumerism is patriotism' propaganda that emanates from most of Chicago's businesses. He was an artist who dedicated his life to capturing images of humanity beyond race, class, or geography. Van Gogh rejected the classist, ethnocentric world of the Parisian gallery system. He chose to leave his studio and find beauty and compassion in places no one else thought to look. He rejected the devaluation of human life. All art-minded Chicagoans stand with van Gogh against the brutal cowardice of the U.S. military action in Afghanistan."

Citing van Gogh's quote, "It is better to be a sheep than a wolf," Lucia Sommer of the Post Impressionists for Peace explained the background to the celebration: "Vincent van Gogh sought to portray the experience of ordinary people - workers, peasants - and thus while being horrified at the events of September 11, he would have opposed an imperialist war that is causing millions of people to flee and face starvation, and would have opposed the bombing of innocent Afghanis."