When Life Imitates Art
Terrorism Creates New Contexts for Chicago Galleries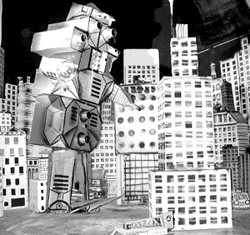 Brooklyn artist Reed Anderson was carefully gluing together pieces of toast, pretzels, croutons and French bread to make planes for his playful, science-fiction-inspired installation Garage Air War at Suitable Gallery when he heard the news. Real-life planes had just been used as missiles in a terrorist attack that targeted two buildings in lower Manhattan, just a few miles from his home.

"[The attack] was happening in his hometown while he was building this really violent airplane art," said Suitable Gallery co-owner Scott Wolniak. "The timing was weird."

Upon hearing the news Anderson stopped working. He talked with Wolniak about whether he should continue creating his fictitious, whimsical area battlefield involving planes - both crashed and intact - warring over a city made of beer boxes. Another eerily relevant aspect of the installation was the inclusion of a short movie about two Godzilla-sized robots who destroy a city. Regardless, Wolniak and Anderson agreed that all plans should proceed.

"In some ways, the piece is really relevant because of the idea of retaliation," Wolniak said. "It's made of beer boxes and bottles and food. It's about juvenile play and getting drunk and deciding to be violent."

Although Anderson created his installation before the terrorist attack and never intended it to be anything but a playful, science-fiction-inspired piece, his work now has an overt political meaning. This change of context perhaps makes Anderson's work, as it raises important issues about human nature and violence, even more significant.

"Since I am American and grew up in the Cold War era, there do seem to be things seeping out [into my work] now that are pertinent to the times," Anderson said. "Somewhere down the road, what I do is as valid as any journalist. I think it's impossible to not be political if you are 'awake' in society and making art."

Suitable was not the only Chicago gallery to launch a show that gained an unexpected change of message due to the terrorist attacks.

Just days before the devastation Underground opened at the Monique Meloche Gallery. This exhibition of work by Carla Arocha addressed the consequences of a chemical terrorist attack on the Tokyo subway system in 1995. Through photographs and paintings, Arocha expolores the psychological effects of sarin poisoning on victims and survivors. Her main installation in Underground served to create optical illusions in an attempt to recreate the symptoms of nausea, dizziness, disorientation and perpetual night vision that survivors of the chemical attack experienced.

While the Arocha show dealt mainly with the physical sensations of the attack, the artist found it difficult to spend time with her installation after September 11 because her work was about the result of a terrorist act, and therefore seemed to take on new meaning. According to the gallery stuff, viewers also find it difficult to see the show without associating Arocha's work with the terrorist attack on America.

"The horrific elegance of the shattering glass from the World Trade Center towers now became a direct link to Arocha's dislocated mirrors," said gallery owner Monique Meloche in a curator's statement. "The specifically low-tech craftsmanship of the platform support looking at the point of collapse, the disorientation of what is above and what is below are all eerie reminders of the horrific, yet somehow visually intriguing, images we all witnessed last week. The artist wished against this reading, but it is impossible not to view everything in this new and unfortunate light."

As well the current exhibit at the School of the Art Institute's Betty Rymer Gallery, Mortal, seems more relevant now than ever. Ironically the show, which features the work of eight contemporary artists who deal with the themes of death and dying, was planned months before the terrorist attacks. Trevor Martin, managing director of the gallery, said that the timing of the shows was very fortunate. He hopes that Mortal and (its accompanying time arts event, Im?Mortal, at G2) will help viewers to cope with this fall's tragedies.

"I think we are suddenly conscious of a bigger life picture," Martin said. "We get so caught up in our living crises that we avoid our death crises. We, as a culture, don't equip ourselves to deal with that."

At press time, Mortal was not yet up. But, undoubtedly, the images, visions, and issues brought forth in this much anticipated show will give us something more to think about in terms of a subject that's undoubtedly been on everyone's minds lately: war.

Mortal will be on display at the Betty Rymer Gallery, 280 S. Columbus, through November 28.