REVIEW

Capsize
through Nov. 18
Links Hall
3435 N. Sheffield
---
Water, Water Everywhere
Sprung Movement Theater Company Launches World Premiere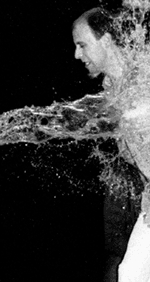 A couple drinks tea and eats toast at the table. They stand together over the bathroom mirror and negotiate sink space. Each hugs the other, offering a traditional peck good-bye. A couple drinks tea and eats toast at the table. They stand together over the bathroom mirror and negotiate sink space. Hug. Peck. Brush. Negotiate.

No, this is not an episode of Home Improvement, and the table is not a table, the sink is not a sink. Rather, it is a construction of chairs placed strategically by a chorus of five, the influences encircling the couple as they go through their daily routine, threatening to force a change, a climax, a catharsis.

This is Capsize, the world premiere performance of Sprung, an international movement theatre company founded by Jon Sherman (who directed 500 Clown Macbeth) and Switzerland native Julie Beauvais. Sherman and Beauvais first met at the Jacques Lecoq School of physical theatre in France. Due to their common vision and simpatico, they decided to form their own company.

Although they came together to create and produce Capsize, Sherman works in the United States and Beauvais works in Europe, each teaching workshops on the body in theatrical space, neutral mask, and the chorus in tragic space. Their workshops incorporate what they learned at Lecoq, but they are evolving these concepts into their own styles and philosophies.

Beauvais directs the production and Sherman performs as one half of the couple with Chicago performer Sharon Göpfert (who starred last spring in Plasticene's Head Poison) as the other half. A fortuitous audition brought them their chorus: Theatre Corps' Blake Montgomery (who also attended Lecoq), Heather Evans, Susy Ibrahim, Gero Mertens, and Tere Parkes.

Beauvais and Sherman developed Capsize through a common idea for a story they shared about a relationship and how to transpose the cycles of a relationship to the stage in a direct physical response. In May 2001 they worked together in a studio in Paris to find the story and choreography.

"We wanted to take something from life and reflect it directly on the stage," Sherman said. This is a key tenet of Sprung's philosophy. For example, in the show the couple stands in a restricted space on stage, defined by six buckets placed around them in a rectangle by the chorus. Within the space they have two chairs and have to negotiate where to place those chairs, a task they are able to perform fairly amicably (ending the negotiation with a relieved hug/kiss). A chorus member tosses another chair into their harmonious space, and they start the negotiation again. As soon as agreement is reached, the chorus throws in more chairs, sending the couple into a frantic level of movement, trying to placate each other and hold onto their own opinion at the same time. Once the couple gets all the chairs arranged, the chorus slides the buckets away, opening up the space, which gives them more breathing room, yet leads to a new series of complications.

According to Sherman, this reflects the constraints, both of limited space and too much freedom, inherent in real-life relationships. "In relationships we have jobs, friends, family, and other elements," said Sherman. "They learn to give more space and once they do that, they can't stay the same way."

This scene illustrates another element of Sprung's philosophy - that of compressing play within defined boundaries. Although the cast played together and improvised in early rehearsals, Sherman and Beauvais incorporated the ideas into the original ideas and choreography and now they are a fixed part of the piece.

As the couple's characters develop, so do the chorus members. Their development mirrors the couple's. In the beginning they are abstract, then they develop an identity, then are abstract again by the end. "In the chorus we see the evolution of the couple," Beauvais said.

And then there is the water.

Chorus members manipulate six buckets of water throughout the piece - they drink from them, splash or flick water out of them, and use them to build walls and interact. Then they use them to douse Sherman (in a fiery scene in which some are cajoling him and others pulling him away from a temptress who threatens the relationship). And of course, with the concept of a relationship as a boat capsizing, even if it rights itself and the relationship gets back on track, somebody's going to get wet.

Throw in an eclectic soundtrack that ranges from fiddle to trance to flamenco to 1920s Jazz, and you have an intense, frenetic, expressive tour-de-force. Although I only saw a rehearsal, it was very clear even two weeks prior to the performance date that this group had chemistry and fire, communal energy and intense movement potential within space and time. Sounds a little like a relationship.


Capsize plays Thursdays through Saturdays at 8 p.m., Sundays at 7 p.m. Admission is $10. For reservations call 866.249.1707 (toll free).