Faculty Profile
A Matter of Life and Death
By Rebecca A. Carter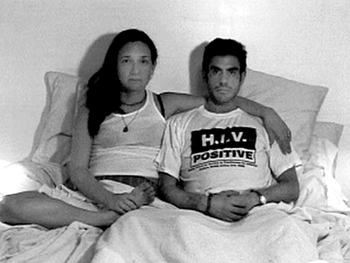 Gregg Bordowitz is a film and video maker and writer whose works have been shown at the Guggenheim New York, the Whitney Museum of American Art, the Museum of Modern Art, and Centre d'Art Contemporain de Grenoble. His writings have been published in Artforum, October, and The Village Voice, and are featured in such anthologies as AIDS: Cultural Analysis, Cultural Activism and Queer Looks. Bordowitz lived and worked in New York for several years after graduating from the School of the Visual Arts, in New York, in 1984; during that time he was part of Testing the Limits, a collective of lesbians, gays and straights formed in 1987 to document AIDS activism. He also produced Living with AIDS, a Gay Men's Health Crisis weekly cable television show. Bordowitz is now an Assistant Professor in the Film, Video, and New Media Department at SAIC and lives in Chicago.

"I've come to believe that habit is the background against which epiphany happens."

Out of everything that Gregg Bordowitz has talked about in our conversation, this is the phrase that lingers in my mind. The words habit and epiphany refer to two things that I think about a lot these days: the rhythm of the everyday and the place of the spiritual or transcendent within that rhythm.

Habit (2001) is the name of Bordowitz's new video work. A sequel to his earlier work, Fast Trip, Long Drop (1993), Habit addresses contemporary AIDS activism and a historically specific autobiographical perspective on living with AIDS.

"I'm sculpting speech acts when I make a documentary," is one way that Bordowitz describes his creative process. "Sometimes I switch the metaphor and I'm not a sculptor, I'm a composer. I'm making music with other people's words." The speech acts and music of Habit include interviews with activists, footage of speakers at political events including the Thirteenth International AIDS conference in Durban, South Africa, personal narratives, and intimate interviews with people significant in Bordowitz's life.

Bordowitz juxtaposes the stories of global AIDS activism's priority of access to life saving treatments with his own experience of taking the AIDS cocktail. These drugs both necessitate, as well as facilitate, the possibility of a habitual lifestyle for a person living with AIDS.

Bordowitz speaks about getting older and an evolution of his interest in the idea of habit: "I was very much engaged in a sort of bohemian fantasy that you shouldn't grow up and do the same thing every day. God forbid that you should get a job, other than something to pay the rent. And now, I have a full time job. I'm in a relationship and I have a home. Issues of security are very important to me. I absolutely need healthcare. I can't afford the drugs that are keeping me alive without healthcare. Now that I'm older and I have a habitual life, it has become important to me to think about habit."

A habit is an action or behavior pattern that is regular, repetitive, and often unconscious. It refers to an addiction to a drug. A habit is the robe worn by nuns or monks. Habit also refers to growth patterns and behaviors in plants, animals and crystals. Habit is an intimate space of repeated daily activities. It houses the bodies of those devoted to God. It is the way that time evolves in nature. All these meanings resonate in Bordowitz's Habit.

On another level, Habit itself becomes a backdrop for the epiphany of the viewer, which is a part of Bordowitz's strategy in making political art. "I feel that political art and the more complicated and complex ideas that are usually associated with modernist art practices are not contradictory. In other words, what is political about my work ... is not that it shows political activism. The politics of my work happen when you watch the film, in the real time unfolding of the film on screen.

"The work is very quiet. It starts off feeling very familiar and goes off in very unexpected directions for me. I hope that it does the same thing for viewers. It starts off small, talking about my life with my partner and the problems of being in a relationship in which one person has AIDS and one does not ... but then it goes off into questions about mortality and nature and one's relationship to nature and aging."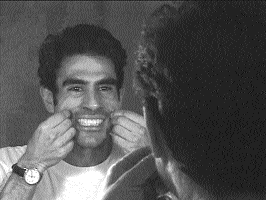 The searching and non-proscriptive way in which Bordowitz raises these questions remains the most compelling voice in the work. Footage of Bordowitz's partner doing what look like yogic breathing exercises suggests the idea of the importance of a spiritual practice. An interview with an HIV positive South African activist talking about how his health has improved due to his positive engagement in activism, in spite of his refusal to take the expensive drugs until they are readily available to all people, speaks to the value of taking an ethical position.

In a humorous and poignant passage, two of Bordowitz's friends speak of their different relationships to the spiritual. One begins by saying that he started praying when he entered recovery for addiction, but then laughingly adds that even before recovery he was always looking to a higher power to get the drugs. His partner then talks about the fragility of his own moments of spiritual connection, how these moments cannot withstand scrutiny. His tender articulation of very intimate thoughts and feelings opens up a vulnerability that gives strength to the larger project of the video.

Footage of United Nations Secretary, Kofi Annan, addressing the U.N. puts these scenes into another perspective. When Annan states that 15,000 people are infected each day with the HIV virus, it is a stark reminder of the ongoing severity of the AIDS crisis and of the imperative of continued AIDS activism. Bordowitz talks about his "deeply held belief that art and culture matter, that art can affect the daily lives of people in a life and death way and that art does not necessarily have to remain aloof from everyday experience." In Bordowitz's case this is true in a layered and complex way.

Habit will premier in Chicago April 12 at the MCA as a benefit for AIDS Legal Council. Although not widely advertised, AIDS drugs are available in this country to those who cannot afford them largely due to the activist efforts of the '80s and '90s. The AIDS Legal Council is a non-profit organization providing free legal services to people with AIDS, including helping people get access to these drugs.

The benefit screening is one of several events in a multifaceted exhibition, Gregg Bordowitz: Drive at the MCA from April 5 to July 7 2002. Third in a three-year series of exhibitions at the MCA sponsored by Abbott Laboratories and entitled Hope=Life: Living in the New Age of Aids, Drive will also include a gallery installation, public poster campaign, double feature film screenings of both Habit and Fast Trip, Long Drop and a public forum on May 7 with five local speakers who will address different communities' perspectives on the complex issues related to access to drugs and services in Chicago.

DEPARTMENT
Film, Video and New Media

TEACHING
Since coming to SAIC in 1998, Bordowitz has taught courses on globalization, media and modernity, science fiction and media production.

RECENT/CURRENT WORK
Bordowitz will have a solo show, Gregg Bordowitz: Drive, at the MCA from April 5 to July 7 2002 which will feature his new film, Habit.