Memory and Displacement: Kabul 23 Years Later
Video stills from "kabul, kabul," video.
When Sedika Mojadidi returned to Afghanistan in 1996 after 23 years of living in America, she arrived with the goal of creating a video that documented her homeland and would remain separate from her personal history. Mojadidi, a recent SAIC MFA graduate, admits that she wasn't prepared for what she saw in Afghanistan. The romanticized notions she held of her homeland were tarnished by the war-torn reality of Afghanistan.
Mojadidi's project evolved into a personal and social narrative, depicted in her video kabul, kabul, which she presented on March 20 at SAIC.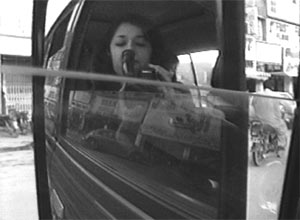 In kabul, kabul, viewers are treated with subtle moments of self-portraiture. Mojadidi interviews her mother while her own reflection is seen in a mirror in the background. In a later scene Mojadidi's face and camera are visible in the side view mirror as she films from inside a moving car. Mojadidi's personal thoughts are contrasted by interviews with various women in Afghanistan, during which viewers learn of the deep resignation of these people after years of Soviet occupation and civil war.
In a question and answer period after the screening, Mojadidi shared some of the personal and technical challenges she faced while creating the 46-minute documentary.
During kabul, kabul Mojadidi narrates some of the cultural limitations she experienced during the making of the video. While showing the inside of a relative's home, she explains in the video: "I had worn the veil many times before during my visits. Here's as far as I can go ... I never travel alone. I can't get out of my car and tape ... The driver ... won't slow down for me to tape things ... It's too dangerous for a woman to be in the street with a camera."
This created a larger technical problem for Mojadidi which she described after the screening as the "challenge of working with fragments and threading them together organically." There is a definite but purposeful contrast between the footage of the landscape from a moving car and the steady camerawork of interiors, where Mojadidi is allowed more freedom.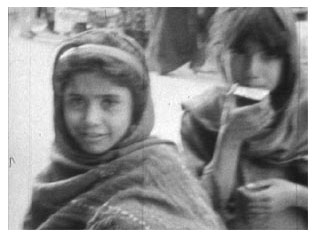 The footage from inside the car with Mojadidi's voiceover is reminiscent of many PBS or BBC documentaries. But once Mojadidi is inside an Afghan hospital, where much of her interviews are conducted, the viewers meet a completely different representation of Afghanistan. Here one finds women eager to voice their frustrations with the cyclical violence and corrupt politics of their country.
Aunty Tandoori (aunt of Mojadidi) is the first woman interviewed. Tandoori's husband is blind, and two of her sons martyred. She has nine living children and is shown making flatbread for her family's lunch. She describes her experience as a refugee: "First I was in Babu camp ... it was a huge desert ... nothing green anywhere ... we used rocks for pillows."
Later on in the video Tandoori states, "Go looking for help [and] you'll get slapped. Without connections you'll get nothing."
Mojadidi asks a woman named Latifa, "Since the Russians left is it better or worse?" Latifa responds, "Since the Russians left it is much worse ... we thought we'd have peace ... the Russians seem better."
Hearing Latifa's words six years later makes it difficult to think of how much worse it is since the Taliban revealed their agenda and the U.S. bombing campaign has commenced in her country. Even then she claimed little faith for peace. Latifa states, "There's always rumors of a truce ... I don't believe it ... these commanders are all satiated with cars, food, money ... they don't give a damn about the poor."
The women of Ariana School & Clinic tell Mojadidi, "All our men are cowards ... they've all taken bribes, and our people have become very greedy ... they only care about their own survival."
Through the interviews with these Afghan women and her mother, Nafisa, Mojadidi comes to themes of displacement and memory. She weaves together the story of Narween, who fled from Afghanistan to Peshawar, Pakistan, and that of Nafisa.
Narween said: "I was very depressed when I first came to Peshawar ... I'd saved Afghan soil in a jar. I'd cry every night." Then Nafisa, from her home, adds "The night I returned to Kabul, I couldn't sleep ... I wanted to see my family ... see Kabul again ... I missed the soil ... I thought [Kabul] is my home ... it's a life you remember like a dream."
Although Mojadidi doesn't share the experience of life in a war-torn country with the women she interviews, she uses the Afghanistan landscape as a device to create a common point of reference. She struggles with the Afghan/American duality in the video. She narrates, "I wanted to say to them that this would be over soon, that it was only a dream ... but I was visiting and they would have to live here, not me."
During her presentation after the SAIC screening, Mojadidi elaborated on the frustration of being an outsider in her home country. She described "feeling really spoiled, really middle class" while in Afghanistan, but added that "the power of witnessing someone's life and how much that means to them" allowed her to continue the project.
Mojadidi is the closest to accessing her own central conflict when she asks Nafisa, "What does it feel like to live in two places at the same time?"
Her mother responds, "It's like floating on water ... it's like swimming but your feet don't touch the ground."
Mojadidi asks, "The place your feet don't touch . . . is it America or Afghanistan?"
Nafisa answers, "Afghanistan."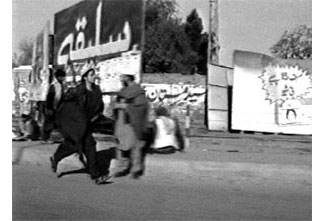 Although the piece often takes on sentimental tones (found in TV images Mojadidi recorded in the 1980s and in the Afghani children she records) and deals with emotional themes, like memory, Mojadidi refrains from giving the video a concluding moral. To her credit, Mojadidi leaves the piece somewhat incomplete, thus allowing the audience and, perhaps, herself, to engage in a timely dialogue.