Noteworthy Calendar
GALLERIES & EXHIBITS
March 8

Handsome Men of the Arts
Gallery Hamburger

Handsome Men of the Arts is a group show including Derek Erdman, Eddie Smalling and Mariano Chavez, beginning at 8 PM.

Gallery Hamburger, 1909 S. Halsted, 312-666-2183.

March 1-29

Northern
Apartment 1R. Gallery

Apartment 1R., a small start-up gallery in Pilsen run by Van Harrison, Marc LeBlanc and Shira Leon, presents its fourth show, an exhibition of sculptural work by fourth-year student Heather Lyon. Her abstract forms incorporate vinyl, wood, and felt, and reference the body, landscape, memory, and gender. Opening reception: March 1, 6-9 PM.

Through April 19 Apartment 1R. is accepting entries for a juried show organized around the ideas of Minimalism and Post-Minimalism, slated for May. Apartment 1R. Gallery, 1722 S. Desplaines, Chicago, IL 60616, 773-263-4476. Open Saturdays, 12-4 PM.

March 1-17

Middle of the Road: A Suburban Affect
1926 Exhibition Studies Space

Notions of home, community, family, conformity and consumption are explored in the work of eight graduate students. Curated by Chris Cook, the show includes paintings by Geoffry Smalley, David Coyle and Michael Cline, photographs by Duncan MacKenzie, works on paper by Joseph Trupia, an installation by Lisa Caccioppoli, a video installation by Jeff Ward and sculpture by Sandra Dillon. Opening reception: March 1, 5-8 PM.

1926 Exhibition Studies Space, 1926 N. Halsted, 773-665-4802. Exhibition hours are Wednesday-Friday, 3-7 PM and Saturday and Sunday, 1-6 PM.

March 2-22

Inside Out 2
Arena Gallery

The Museum of Contemporary Art and Arena Gallery present the second annual exhibition of artwork created by museum staff, including sculpture, painting, drawing, photography, print, video and installation works. SAIC students featured are Aaron Curry and Erik Wenzel, as well as recent graduates Kimberly Aubuchon and Erica Erdman.

Arena Gallery, 911 N. Sangamon, 312-421-0212. Visit www.arenagallery.com for more information.


FILM & VIDEO
March 1-7

Missing Allen
The Gene Siskel Film Center

The documentary Missing Allen explores the disappearance and untimely, mysterious death of filmmaker and SAIC alumnus and faculty member Allen Ross. The still-unsolved case entails "hints of changed identity, the fact of Rossą research into alien abduction [and] his marriage into a religious cult, [which] all fueled rumors until the grim discovery of his body in July 2000, and evidence of murder, under a house in Cheyenne, WY." Originally from Naperville, Ross also taught filmmaking at SAIC and helped to found Chicago Filmmakers. During the film's run, audience members will be able to sign a petition encouraging authorities to give the murder investigation the attention it deserves.

The Gene Siskel Film Center,164 N. State. Tickets are $8; $4 for Film Center members. For more information call 312-846-2800 or visit www.siskelfilmcenter.org.

March 9

Viewing Suburbia
1926 Exhibition Studies Space

The Middle of the Road: A Suburban Affect will also feature Viewing Suburbia, a screening of video and film works by artists in and outside the SAIC community from 7-9 PM. Artists include Brian Andrews, Gabriel Fowler and many more.

1926 Exhibition Studies Space, 1926 N. Halsted, 773-665-4802.


MUSIC
March 8

Teen Wolf
The Gallery Cabaret

Tumbletits of Teen Wolf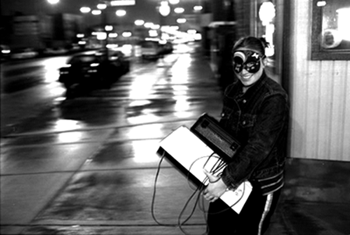 A long-time fan describes Teen Wolf as "kinda like the Beach Boys if Brian Wilson had been less stuck-up, or like Johnny Cash but noisier and less cool," admitting that sometimes "Teen Wolf rocks so hard I get a boner."

Formed by two friends in the mid-'90s with a Casio and a cheap acoustic guitar, today Teen Wolf has almost 15 steady and rotating members. Founding member Dj Felldown remembers their meager beginnings: "We recorded 100 catchy songs with a three dollar mic in a week."

A number of SAIC students and one faculty member are in the band but wish to remain anonymous, instead appropriating such names as Tumbletits, Circus Peanut, Pink Muffin, Dj Kleenex, Gramma Strangepet and the Yar-Nic Noff singer. Contact Teen Wolf at [email protected] or PO Box A3642, Chicago, IL 60690.

The Gallery Cabaret, 2020 N. Oakley, 773-489-5471.
COMICS
F News cartoonists Erik Wenzel ("Stalker") and Grant Reynolds ("orange dirt") have released a new bi-monthly comic, "SiCK & TiRED." The February-March issue is on sale now for $2.50.

Contact them at [email protected] or [email protected]