Going Postal:
Two Michaels and the Elusive Stamp of Approval>
Smoke from loose tobacco drifts lazily as cigarette after cigarette is rolled. Guitar heavy music echoes around the studio.

This could be a session with Aerosmith or some other rock band, but instead it is a chilly morning in the Pilsen neighborhood, at the studio of Michael Thompson and Michael Hernandez de Luna. These two Chicago-based artists cum Federal pain-in-the-you-know-what, not only made a name for themselves with their brand of mischievous stamp art, but also attracted the legal posturing of the U.S. Postal authorities,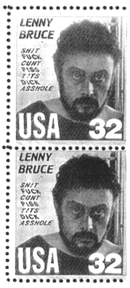 who have threatened the two artists with legal action for making and mailing bogus stamps.

The two Michaels, as they sometimes jokingly term themselves, have for more than nine years, as part of their stamp art project, created some of the most politically satirical, socially biting, and - as the more conservative would say - lewd stamps to make it through the postal service's censors: stamps depicting the wonder drugs Viagra and Prozac, controversial comedian Lenny Bruce, infamous assassin The Jackal, a lead member of the Japanese Aum Shinrikyo cult (the group responsible for the 1995 sarin gas bombing of a Japanese subway), Monica Lewinsky's dress, and the always shocking human genitalia.

"A lot of it you do for fun. This has been really a kind of fun thing. You challenge yourself and you challenge the system of what is acceptable and what is not acceptable," said Hernandez de Luna, who received his undergraduate degree from the School of the Art Institute of Chicago.

Their stamp art project involved the creation of fraudulent U.S. and foreign government stamps, complete with perforations and postage, which the two artists actually sent through to themselves on self-addressed envelopes via the mail system, usually mailed from a foreign country by a willing friend of the artists. The stamps traveled through the postal system in hopes of evading the censors or being hand cancelled by an intrigued, mischievous, and possibly disgruntled postal worker, finally returning to the artists - project completed. This may sound like an innocent enough prank. Really, who thinks about stamps anyway? Aside from a few geek collectors in the world, stamps are rarely thought of as anything but a mail necessity, and a god-awful tasting one at that. (Let's all praise the self-adhesives.) But subversion, however harmless, often comes with its own set of consequences.

In 1997, after the Norwegian postal authorities caught Thompson's "Origin of the World" stamp, based on a painting of the same title by Gustave Courbet, depicting rather largely and naughtily, the crotch of a woman, the U.S. postal inspectors threatened the two with legal action if they did not cease and desist their stamp art project. According to postal authorities the Michaels violated several federal laws, including counterfeiting; mailing indecent matter on envelopes, postage and revenue stamps of foreign governments; theft of labor or services; and postage unpaid on deposited mail matter.

"They don't like the idea. When you start tampering with their revenue it becomes an issue that they really don't like," said Hernandez de Luna, in reference to the revenue lost by the postal service due to the fake stamps, which he jokingly said would likely add up to just enough to purchase a moderately nice meal.

Initiated by Thompson, who was later joined by Hernandez de Luna, the seditious project did not emerge out of any altruistic motivation to defend the world against the evils of capitalism or postal tyranny, it grew out of a simple desire to see what they could get away with.

Reading about a Doonesbury cartoon that was used as a stamp and sent through the mail sparked Thompson's initial interest, as he wrote in their book, The Stamp Art and Postal History of Michael Thompson and Michael Hernandez de Luna, released last year, "It seemed a brilliant joke, a subversion of the system of taxation, with someone else's representation." So began a brave new and rather unlawful relationship with stamps.

"It opened a whole world. I [realized I] could put anything on the corner of this envelope and it'll come back," said Thompson, sunglasses donned and waving smoke with his hand gestures.

"When I first started it was just a matter of me bringing my friends up and showing them my collection of envelopes, and I probably wouldn't have gone any farther than that. But then Hernandez came back into the picture and he introduced the idea of making sheets, which I really hadn't done. I always made one of a kinds," added Thompson, who at one time also roamed SAIC as a student.

Although gelled together in a two-headed monster kind of way when the discussion of their work arises, at closer inspection it is easy to see that despite their common appetites for the salacious, contentious, and critically humorous, the artists are diverse in their approach.

Hernandez de Luna, whom it would be difficult to call shy, has what appears to be an "I dare you" attitude towards the idea of stamp censors. A lot of his stamps beg to be pulled from conveyors and set on fire in a ritual dance of rebuke by Jerry Falwell. Among the images Hernandez de Luna had the courage to mail are fornicating horses doing it "doggy-style," serial killer and child molester John Wayne Gacy, a nude depiction of Melissa Etheridge and her lover on a LOVE stamp, a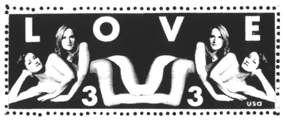 "Piss off" stamp with an old man giving the finger, and lots of images of breasts ("Boobs" to be exact - at least that is how they are labeled on Hernandez de Luna's stamps).

"[Historically] what [stamps] are all about is that they commemorate dead things or important things. I think what we do is commemorate our pop culture, how we see the world. As fun as it is, it is really subversive. And we've been able to express something that is on our minds and in a fun way," Hernandez de Luna said.



One of Hernandez de Luna's most unbelievable feats was getting his "Tom, Dick and Harry" stamps under the wire. "Tom Dick and Harry" is a strip of three different 32-cent stamps, each featuring a different ethnically-diverse male phallus. The images are actually dildos, Hernandez de Luna revealed; However, more shocking than the penises is the fact that the stamps came through the mail hand cancelled, proving to Hernandez de Luna that the stamp found an admirer among postal employees. Rather than drop the dime, this postal worker sent the stamps through, adding an interactive dimension to the project.

Some may call him a man of few or lesser morals for that stamp, but Hernandez de Luna is not a man without principles.

"I made [Tom, Dick, and Harry] on a principle of not being called anti-feminist all the time. So I made [it] to prove that I wasn't anti-feminist," said Hernandez de Luna, in reference to the number of stamps he has created depicting the naked female anatomy.

And who said artists were self-absorbed?

While no less bold in his choice of subject matter, Thompson is slightly more subtle in his approach.

"I try to choose things that are somewhat acceptable, not so obvious that it'll be stopped in its tracks," said Thompson. "It has gotten grander and subtler and more sophisticated. Nowadays they're done for all different countries, which requires finding out how much [other countries] charge for stamps ... at least it'll have the facade of some reality so that when a postal inspector sees it there is a chance that they'll accept it, cancel it, and send it through."

Both artists cull much of their subject matter from domestic and international affairs, and when it counts, they often draw political blood.

"I think anything that wouldn't really be commemorated on a stamp appeals to me. Anything that societies or cultures are embarrassed of or afraid of. We're pretty contrary," Thompson said.

One such contrary image is a highly charged, color South African stamp, "The Necklace," which obviously takes aim at the apartheid regime murders utilizing the tire burning apparatus, a linking the South African government would surely not wish perpetuated.

"Some of these stamps are directed at countries. ... Some of them really are painful for the countries. Those are the things I think should be remembered," Thompson said.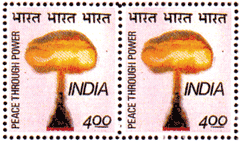 Other countries that have been ridiculed by the artists are China, Ecuador, Australia, Turkey, India, Portugal, and Japan. All with stamps as visually provocative as they are silently accusatorial, rehashing memories of less than stellar political pasts. Such as the Australian "Birth of a Nation" stamp, which features prisoners wearing balls and chains, reminding the Aussies of their country's penal colony start.

Also among Thompson's cadre of work is a stamp seemingly commemorating Abraham Lincoln, but in actuality shows Lincoln sitting in the Ford's Theater, with a hand holding a gun to Lincoln's head in the background. And then there is the obvious jeer at the once-upon-a-time F.B.I. chief headhunter J. Edgar Hoover in a stamp that reads "j. edgar homo" - a designation I am sure will have upstanding and self-respecting gay, lesbian and bisexuals knocking on Thompson's door any day now. Who would want to claim Hoover?



Aside from the artistic freedom required for this type of work, freedom of expression once again entered murky waters when, in October 2001, at the height of the Anthrax scare gripping the U.S., Hernandez de Luna created and mailed his now infamous "Anthrax" stamps. The stamps were not only caught by postal authorities, but actually shut down a main postal distribution center in Chicago while the stamps were investigated. With all the security hype surrounding the events after Sept. 11, it is not a far leap to think Hernandez de Luna could face something more serious than counterfeiting. He is currently facing a possible federal indictment for the incident, and it wouldn't be hard to see the government look upon the stamp incident as a threat to national security.

Admitting that mailing the Anthrax stamp was perhaps a thoughtless action, Hernandez de Luna said of the work, "It was just my way of responding to the times." Nonetheless, he does not shy away from the politics of chemical warfare. "Here we have the [U.S] government pissed off about my [Anthrax] stamp, but [the U.S.] is manufacturing [Anthrax]. It's a twisted sort of ideology of sorts." Hernandez de Luna said.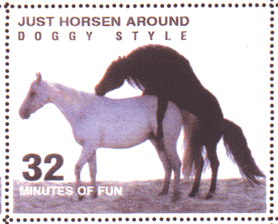 Michael Dorf, distinguished lecturer in the SAIC Arts Administration and Liberal Arts departments, who also teaches a graduate course titled "Law, Politics and Art," thinks that while Thompson and Hernandez de Luna can be applauded for the courage to take risks in their artwork, the consequences of their actions cannot be easily overlooked in the name of artistic freedom or freedom of expression.

"The artist is trying to have it both ways and say, well, 'I want to break the law to make a political statement, but I'm not willing to accept the consequences for it.' I think that is a cop-out," said Dorf, adding that this situation was about more than artistic freedom.

"Do artists have to have any sense of responsibility as citizens? There is a question about free speech. There is no such thing in the U.S. as completely unrestricted free speech ... [but] the purest and the most protected by the first amendment is political speech... Does the artist have a responsibility even when trying to make a political or artistic statement to look at what the consequences are? What is the difference between sending the Anthrax stamp at the height of the Anthrax crisis, versus ... going into a crowded theater and yelling fire? To what extent do you have to think of what the consequences of that action are going to be?" Dorf said.

Dorf, who has also worked in politics and government, said that the government should be supporting things that the private sector is afraid to support, but added, "I believe in the idea of pushing that envelope, but I do think that artists are also citizens and should have some common sense when they do it."

Asked if he thought the prosecution of Hernandez de Luna would deter other artists from taking similar risks, Dorf responded that Hernandez de Luna's potential prosecution is due to the artists breaking actual laws, not an act of moral or social harassment without legal basis. He also said that he did not think that this case would have a chilling effect on other artists who want to push the edges in their work.

Currently, Thompson and Hernandez de Luna are embroiled in a legal dispute with the Peggy Notebaert Nature Museum. The Michaels say that they entered into a contract with the Nature Museum to exhibit their stamp art at the Stamps of a Different Nature exhibit. However, after hearing about Hernandez de Luna's trouble with the feds over his Anthrax stamp, the museum pulled the plug on the show, offering a third of the $2,000 honorarium promised to the artists to buy them out of the contract. This is unfair, said both Thompson and Hernandez de Luna, who have become quite comfortable consulting lawyers when it comes to the business of their art.

As the legality - or, rather, the illegality of their actions - have become more present both artists have subdued their desire to subvert the postal system with new stamp creations, at least for now.

Thompson, with a wink and a nod, was leery to divulge much about the pair's current stamp activity, stating that any slip of the tongue could come back to haunt them, later adding, "It's been a long time since I've mailed stuff to my home address or to my studio because we have received a lot of attention from the postal inspectors the last couple of years. They keep a pretty close eye on us."

Despite all the negative attention they have garnered, both artists smile broadly and eagerly discuss their old stamps as well as concepts for new ones on the horizon. Currently, the artists are busy working on new and different projects, including another book surveying their stamp art scheduled for release in 2003.

Hernandez De Luna is currently working on a stamp project highlighting the poisonous plants of North America. A seemingly educational endeavor, but by now we all know there will be more to these plant stamps than meets the eye. And while they have been frightened by some of the legal jargon being tossed at them, without a doubt, these two artists have left their stamp.