Building Roots: The Installation of a Chicago Artists Community

Abby Glogower

Photography By Stephanie Atwood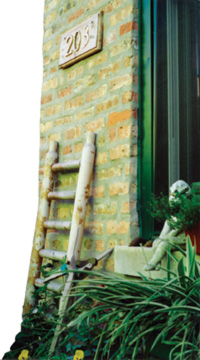 It's a familiar pattern: poor, energetic artists seeking work space and cheap rent disperse into devalued communities. With them they bring an attractive cultural wealth. As people rediscover these areas through art openings and other events, the landscape begins to change. An organic grocery, a coffee shop and a bookstore spring up. The neighborhood gains a reputation as young and vibrant and the market responds one incremental rent rise at a time. Within a few years, the very artists who carved out the niche find themselves financially squeezed, but they are not the only ones; the preexisting communities, often comprised of families far less mobile than young artists, are also pushed from their homes. Unable to keep up with soaring rents and the influx of newcomers, the cycle of gentrification and forced migration haunts urban existence.

"At some point you get tired of working to build something remarkable only to leave it behind," says writer/performer Virginia Boyle. "After 25 years of being gentrified out of space after space we decided to take action." Nearly eight years in the works, this action has finally been realized in the Acme Artists community of Humbolt Park/Bucktown. A unique model for an artists' residence, Acme is the only community of its kind in the country. Unlike other cooperatives and collectives, which are landlord- or non-profit-owned, the residents of Acme have complete autonomy. They own the property they stand on and they're not going anywhere.

Some fifteen years ago, in the wake of Mayor Harold Washington's Chicago Cultural Plan, artists, social activists, and cultural workers founded the Near North West Arts Council (NNWAC), whose mission is "to create a new context for art activities that integrates programs with consensus planning and grass roots investment; not to serve as pawns to advance gentrification." At that time, NNWAC was managing the Flat Iron Gallery in Wicker Park, providing a center for exhibits, theater events, and workshops. Members of the council noticed a growing urgency for stability as artists in their circles aged from twenty-somethings to thirty-somethings. As their lives and careers matured, many felt the stress of having to regularly change residences and move studios. A growing number wanted to create a long-term housing solution for lower income artists. Using grant money from the City's Department of Planning, NNWAC conducted a feasibility study of residential artist communities around the country. Since nothing of the sort existed in Chicago at the time, they looked to projects such as Artaud in San Francisco and similar examples in New York, Los Angeles, and Minneapolis. Armed with research that showed a preference for an ownership model and with modest grant money, the NNWAC hired a development team. The first task was to create a loan package, culling together funds from the state, city, and private foundations.


In 1996, thirty artists incorporated and pooled enough money in coop shares to option an abandoned metal stamping factory on Bloomingdale Ave. Using a bridge loan from the Chicago Community Loan Fund, NNWAC purchased the 46,000 sq. ft. warehouse for $299,000. At that point their work had only just begun. "The roof leaked, the space was full of rats," recalls Laura Weathered, executive director of NNWAC and Acme resident. "The architect insisted we could put in this courtyard and we could hardly believe it. But he did. We just had to be visionaries." After several years and nearly three million dollars in renovations the space is now completely transformed into a 25-unit, mixed residential/commercial structure. Each of the 20 residential units is a privately owned condominium. The formula is simple: by eliminating the profit driven landlord as middle-man, unit prices can remain fixed and affordable.

The group has also worked carefully to protect against speculation. They have developed a few strategies to help: one, stipulation on sales. The units are for-sale only to artists and the condo association has the first option to buy a unit that comes up for sale. Also, the equity that can be earned off each unit is limited. It is tied to the cost of living, so that one owner cannot buy a unit for $150,000 and then sell it a year later for $300,000 simply because the community increases in desirability. Furthermore, most of the units have a zero percent second mortgage that has to be paid off when a unit is sold but is cancelled after ten years.

The shift from cooperative to condo-association came about through research. While wary of cooperatives, the city of Chicago has very viable programs in place to assist single occupancy home-owners in securing sustainable housing. By parsing the community into separate units, united under an umbrella collective, city loan money became easier to secure. The relationship is beautifully reciprocal since the occupants of Acme now generates some $70,000 dollars in annual property tax, money that goes back into their school district and neighborhood infrastructure.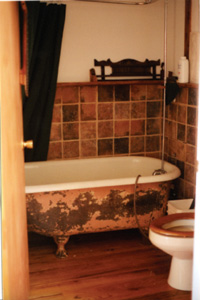 What elevates the residents of this condo-association from neighbors to community? The mix of residential and commercial spaces is the first ingredient. The Acme complex provides office space to non-profit organizations including Chicago Community TV Network, NNWAC, the Chicago Mutual Housing Network, and Woman Made gallery. Residents sit on committees ranging from building finance management to event planning. Meetings are held bi-weekly and conducted through consensus process, a form of "truly participatory democracy" that ensures the minority voice will always be heard. Residents share laundry facilities, studio space for large projects, and a social hall available for both Acme-related and private events.

As an architectural punctuation, all the units face into a shared courtyard whose construction necessitated a partial rebuilding of the foundation. The result is an inviting mix of original and new structural elements. A tranquil retreat from the noise of Western Avenue, the space is truly shared--instead of private porches for each unit, a contiguous path around the enclosure fosters foot traffic and interaction with neighbors. Gazing around the flowerpot lined parapet and down on the benches in the grassy yard, it is nearly impossible to imagine the building in the former state Laura Weathered described. A cognitive dissonance that brings home the awesome immensity and triumph of this project.

Acme's dedicated development team poured extensive research into the needs of the community. With the help of green-project state funding, builders were able to install added insulation and state-of-the-art heating facilities.
While a larger initial investment, the payoff is increased efficiency, a long-term cost benefit for residents, and it represents an environmentally conscious decision. In terms of individual homes, all units were designed with flexibility in mind. The seven two-level and thirteen one-level spaces follow open floor plans undelineated by separate rooms. Residents are then free to modify the space to suit the needs of their families. Many come with trade skills and, bypassing the need for hired contractors, are able to adapt their homes creatively and affordably. The range of individualized results is remarkable.

The home of Virginia Boyle; her husband, community photographer Robert Lopez; and their teenage son, hosts the Robert Lopez Gallery of Art in their entry hall, currently showing works from Lopez's massive project Chronicles of Wicker Park. Next door, a neighboring artist couple has hung a show of 12-inch paintings in their living room cum gallery. Besides serving as exhibition outlets for the residents' diverse work, these ongoing art shows and their opening receptions carry the bonus of encouraging frequent dialogue, socializing, and exchange.

Eschewing the archetype of the tormented artist hovering at the fringes of society, the Acme community embraces a model of positive social engagement. Commitment to neighborhood involvement is a key criterion for membership. Since the residents have only finished moving in this last year, the projects are just getting started. So far Acme has opened its doors for studio visits during Chicago Artists month, hosted bilingual performances for children, a media collaboration with the Garden Fresh artists group and numerous openings and shows. Residents are also working with neighborhood leaders to reclassify the abandoned Bloomingdale train line that runs by their property. The goal: to transform the overgrown, rusty eyesore into a bike path and pedestrian trail. Finally, right across the street at 1741 North Western, sits the Acme arts center, the Acme community's off-site base for the public. The building is open seven days a week and hosts art shows and concerts, provides conference and workshop space to arts groups and has recently opened its Blackwall café serving locally made treats.

Not content to rest on the laurels of their success, the Acme community is committed to inspiring other artists and activists concerned with affordable and sustainable housing. As part of Chicago Artists month, the Acme Arts center hosted a weekend long workshop on the topic. After three days of discussions with community organizers, legal experts, and of course, the Acme pioneers, the workshop closed with participants plans for the future. Ideas for a 6-10 unit cooperative with commercial space and a residential space for animators and video artists were just two of the ideas enthusiastically tossed around. Tanya Smith left inspired to create housing in her neighborhood where "affordable housing isn't very affordable at $165,000 per unit."


A wholly new community model is flourishing right here in Chicago and a lot of eyes are watching. A documentary film about the Acme Artists community is in the works and the group has been approached by several academics working on theses. Efforts to replicate Acme's success are already in the works in the city and beyond. The process of creating a community like Acme is a long and complicated one, but Laura and Virginia urge, "Don't be daunted." The good news is that now help is available and readily offered, thanks to Acme, NNWAC and groups like the Chicago Mutual Housing Network and Lawyers for the Creative Arts. Whether to direct you to workshops, provide lists of contacts or cheer you on, the busy residents of Acme are committed activists to the core, inviting other curious and committed individuals: "Come to us, we'll help you get started." "It might take a few years," says Virginia, "but as artists we have to value ourselves, our worth and our work. Get the people of your generation to start planting some seeds. Plan to stick around."
Related links:
Want to comment on this story? Visit the Feature Commentary section of the F Blog.