Review
Ambroise Vollard, Patron of the Avant-Garde
by Steven L. Bridges
above from Pierre Bonnard. Ambroise Vollard with His Cat, c. 1924.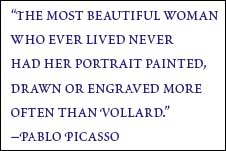 Cézanne to Picasso: Ambroise Vollard, Patron of the Avant-Garde, the current blockbuster exhibition at the Art Institute of Chicago, is a curious re-thinking and re-presentation of a period key to modern art. Despite the initial experience of déjà-vu, the exhibition provides a fruitful abundance of art objects across a variety of media, some of which have never before been exhibited in Chicago. The show unfolds as a loose chronology of events and associations between various artists, artists groups (namely, the Fauves and the Nabis), and their infamous art dealer Ambroise Vollard. The forceful meanderings of the serpentine corridors and vaulted rooms allow for suspenseful anticipation, and the occasional glimpse back over one's shoulder often reveals interrelations and juxtapositions that would otherwise go without notice.

Yet I found myself continually wondering what the show was really about. The premise itself seemed straightforward enough: all of the work on display had, at one time or another, passed through the hands of Vollard, either through accession or commission. Vollard maintained relationships (which were, at times, rather distrustful and suspicious) with each artist throughout his fifty-odd year career as a dealer. I still felt, however, that something else was lurking just beneath the surface.

The result of a collaboration between the Art Institute of Chicago, The Metropolitan Museum of Art, the Musée d'Orsay, and the Réunion des Musées Nationaux, the show exhibits a breadth of artistic production, which reflects Vollard's role as a catalyst of artistic exploration. For this exhibition, works have been collected not just from the organizing institutions, but from all over the world. Most worthy of note are Pierre Bonnard's Seated Girl with Rabbit from The National Museum of Western Art, Tokyo, and a rare film of a meeting between the aged Pierre-Auguste Renoir and Vollard. Also of note is the inclusion of Paul Gauguin's masterpiece from his time spent in Tahiti, Where Do We Come From? What Are We? Where Are We Going? on loan from the Museum of Fine Arts, Boston. The magnificence and awe-inspiring magnitude of this painting in both size and execution further stimulates a reconsideration of Gauguin's controversial art practices (not to mention lifestyle) and his impact on both the Parisian art scene and beyond.
However, there is a much less glamorous side to these relationships. Looking beyond the extravagant dinner parties—Vollard was renowned for his curried chicken and his knack for lively and boisterous discussions—there are accusations of treachery, exploitation, and mishandling of artists' accounts. Henri Matisse and Paul Gauguin were among those who had less than favorable interactions with Vollard. It is documented that Matisse once referred to Vollard as a thief (in French,
voleur
). While Vollard was the definitive beneficiary of the relationship between the two, the prominence offered Gauguin as a result of their business interaction cannot be overlooked.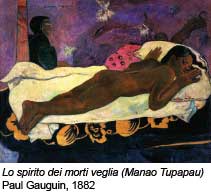 Upon returning to the Art Institute to consider again this exhibition and in hopes of confirming my sneaking suspicion of some greater, underlying significance, I couldn't help but feel empathetic for the countless travelers and seekers of artistic wisdom as they glided from one image to the next, becoming ghostly apparitions of the personae they had checked at the door. How much had they spent to be here, to listen to some strange voice echoing interpretations in their ears, trying to engage themselves, to understand?
The irony was not lost; instead, it was rolled up in tight wads or crammed in bulky wallets. In visiting an exhibition that is, for the most part, about the art market, visitors perpetuate the very same system. I was able to conclude, at last, that the exhibition is not about Cézanne, nor Picasso, not even Vollard, as the title suggests.
Cézanne to Picasso
is an embodiment of the intersections between capitalism and art: processes, manipulations, and, above all else, a testament to the power of this market. As such, the show is a mysteriously dark and cavernous structure with a most beautiful and entrancing façade.
Cézanne to Picasso: Ambroise Vollard, Patron of the Avant-Garde
is on display now through May 12, 2007 at the Art Institute of Chicago (111 S. Michigan Avenue).
images courtesy of the Art Institute of Chicago
Click here to Tell your Friends about this page