Noteworthy Calendar
performance & theater
February 7-9
Action Heroes
Museum of Contemporary Art
New York-based dance troupe STREB presents the Chicago premiere of their new work Action Heroes, a multi-media performance which depicts the life of daredevils, paying homage to American stunt artists including Evel Knievel, Cannonball Richards and Annie Taylor. In this intensely physical performance, STREB company members hurtle themselves through the air using a truss box and trampolines.
Performances are Thursday at 7 p.m., Friday and Saturday at 8 p.m.; 220 E. Chicago Avenue; 312-397-3833; www.mcachicago.com; $17-$22.
February 28-March 2
memorandum
Museum of Contemporary Art
Kyoto-based artist collective dumb type returns to Chicago with the U.S. premiere of memorandum, a dance-theater work that explores memory in a world overloaded with information. With its relentless flow of ultra-rapid video data crafted by Shiro Takatani, as well as "pure noise" by composer Ryoji Ikeda, memorandum tests the thresholds of perception. At the heart of dumb type's technological imagery is the body in crisis.
Performances are Thursday through Saturday at 8 p.m., Sunday at 4 p.m.; 220 E. Chicago Avenue; 312-397-4010; www.mcachicago.com; $17-$22.
STREB: Action Heroes
galleries & exhibits
February 8 - March 23
Ordinary Icons

Ceramic National 2000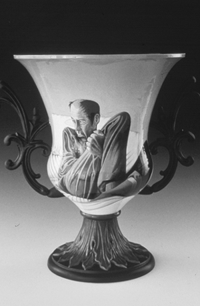 Gallery 312
Simon Grennan and Chris Sperandio's comic book series "Invisible City" documents interviews with New York night-shift workers, including an exotic dancer, a copy room manager and a janitor, while Alan Harmon's "Source of the Nile" playing cards symbolize Ugandan items of cultural and economic exchange in this exhibition of artists who explore the relationship between personal history and popular culture in a variety of media. Several SAIC instructors and alumni are featured, as well as a video program organized by the Video Data Bank, featuring works by Jem Cohen, Martha Rosler and Meena Nanji.
312 N. May Street; 312-942-2500; www.gallery312.org; Free.

Through March 17

Ceramic National 2000
Chicago Cultural Center
Every five years since 1932, the Everson Museum of Art in Syracuse, New York has organized a survey of the American ceramic scene. The Chicago stop of the traveling exhibit features 64 pieces by the same number of artists that range from traditional vessels to abstracted forms to conceptual pieces. Established artists like Ruth Duckworth, Peter Voulkos, Akio Takamor and Wayne Higby will be featured as well as newcomers. On February 23, critic Polly Ullrich moderates a discussion, "Ceramic Art in the 21st Century: Message and Materiality."
78 E. Washington Street; 312-744-6630; www.cityofchicago.org/Tour/Cultural Center; Free.




film & video

Throughout February

Race Movies: Black Film Before 1950
Doc Films
Doc Films showcases a series of "Race Movies" by some of black cinema's pioneers. These black-cast films, made to meet the entertainment needs of segregated black audiences, range in genre from musicals to drama to thrillers to comedy. These independent productions provided black viewers with images of African Americans that were absent from Hollywood films. Works by groundbreaking filmmakers Oscar Micheaux and Spencer Williams will be shown, among others. All those listed below start at 7 p.m. Max Palevsky Cinema, Noyes Hall, 1212 E. 59th Street; 773-702-8575; [email protected]; $4; Sunday matinees $3.

February 3

Scar of Shame
(Frank Preugini, 1927)
This film presents a rare glimpse into the color prejudice and class tension within the black community through the story of an elite pianist who marries a woman of lower class.

February 10

Veiled Aristocrats
(Oscar Micheaux, 1932)
This remake of Micheaux's 1925 silent film, The House Behind Cedars, and big-screen adaptation of a novel by Charles Chestnutt tells the story of a light-skinned heroine who must come to terms with her identity.

February 24

The Girl in Room 20
(Spencer Williams, 1946)
Story a small town girl who moves to New York City hoping to become a famous singer, only to ecounter the harsh realities of city life and the cut-throat world of show business.




music

February 9

U.S. Maple, Cash Audio and Dianogah
Abbey Pub
An impressive, startling line-up of three quite different Chicago-based independent rock bands that perhaps you never imagined would play together: U.S. Maple's sound is extroverted and chaotic, breaking the knee-caps of rock and roll; Cash Audio (formerly Cash Money) belt out fine country-punk-blues; and Dianogah plays "post-rock" (if youšve figured out what that means yet) with merely two bass guitars and drums.
Show at 9 p.m.; 3420 W. Grace; $12.

February 21

Gwar- Blood Drive 2002
The Vic
Everyone's gotta see 'em once. Faux-pagans in oversized paper mache and latex costumes try their best to shock you silly and drench the crowd in all sorts of (fake) bodily fluids. Wear old clothes and earplugs. God Forbid and Soilent Green open for this all-ages show.
Show at 7 p.m; 3145 N. Sheffield; 773-472-0449; $20.

Kelly Hogan
Schubas
Amazon.com sums up alt-country-rock record label Bloodshot's Kelly Hogan with this sensual sentence: "Kelly Hogan loves country, rock, and soul just about equally, and with a voice as warm and sticky-sweet as a fresh pecan pie, she does justice to them all." You might also remember her days in Atlanta's Rock*A*Teens. Finally see the woman who mixes your drinks at the Hideout perform.
Show at 9 p.m.; 3159 N. Southport Avenue; 773-525-2508; $10.