REVIEW
Gosford Park,
directed by Robert Altman
Fashion, Flappers, and All That Jazz
---
USA Films
Landmark's Century
Centre Theater
Diversey and Clark
Chicago Historical Society
North and Clark
Through September 30
Everything Old is New Again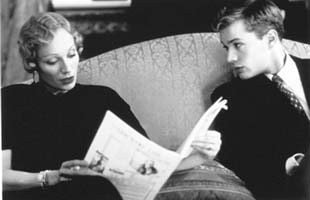 Everybody has that little thing that gets them through the winter. Generally, I would be content to do the Charleston around the apartment in my best Zelda Fitzgerald dress, a flask of bad whisky stored neatly in the garter, or moon over a Norma Shearer picture. Luckily, this year, I was able to take my penchant for pearls elsewhere and find a good strong dose of wistful and excessive sentimentality to curb my abnormal yearning for some past period. Yes, it's nostalgia, my drug of choice.
If you swoon at the sight of sequins and bugle beads, the Chicago Historical Society's latest exhibit might be for you. Opened in November 2001, Fashion, Flappers, and All That Jazz, displays the fabulous array of 1920s formal gowns, dance dresses, lingerie, overcoats and shoes from the Hope B. McCormick Costume Center collection. The exhibit follows a woman through a night on the town.
First stop: the bedroom. Here, along with an unprecedented assortment of embroidered shoes is a model of one of the first modern undergarments, silk pajamas with a cityscape and, my favorite, a Delphos dress-in-a-box (i.e., a formal gown that rolls into a ball the size of a grapefruit and fits in a tiny round box.)
Next stop: a night on the town - the theater, a formal ballroom in the Loop, then a "black and tan" club on The Stroll, the 1920s South Side hotbed of jazz activity. Highlights among the gowns here include a couple of robe de style dresses (a mid-calf French formal with a fitted bodice that poofs out at the waist), and a butterfly dance dress, also French, designed in 1922 with varied hemline, a compromise between below-the-knee flapper skirts and ankle-length dresses of the preceding decade, which allowed dancers to show off their legs. One particular mint green and turquoise silk dress embroidered with pearls and silver thread is designed completely in the shape of a butterfly.
Throughout the exhibit, Louis Armstrong's voice and the sounds of King Oliver's Creole Jazz Band permeate the space, and The History Channel projects 1920s jazz films in each room. It made me want to put on a headache band (aka a tiara) and dream about the day the 19th amendment was passed, the first woman chopped off her flowing tresses for an Eton Crop (man's haircut), and people were asked to speakeasy, just long enough to let the cops pass.
If you've read a lot about 1920s American culture, you probably won't get much new information from this exhibit, but it provides just enough historical facts to get you in the mood and remind you why this was such an interesting decade to look back on.
Speaking of looking back, Robert Altman's latest film, Gosford Park, set in 1932, takes audiences back not only to early 1930s England, but also back to the Hollywood glamour of that same era and to the world of Hollywood murder mysteries.
Gosford is set at a country estate with about five servants per person, and that's just in the house. Altman makes it clear from the first scene that the worker/employer relationship will be one of the more interesting aspects of this story. Mary (Kelly Macdonald), a young Scottish maid, stands in a downpour to help her employer, Lady Trentham (Maggie Smith), who sits comfy and dry in the back of the car, open a thermos. They are stopped en route to the palatial country house of Sir William McCordle (Michael Gambon) and his wife, Lady Sylvia (Kristin Scott Thomas), who are hosting a weekend of "shooting" (pheasant hunting). Friends and family arrive, along with accompanying valets and ladies' maids (what? you don't have your own lady's maid?), an ensemble replete with secrets and scandals. Just one of an array of fascinating characters, Lady Trentham represents the financial hierarchy of these upper-class women: Mary owes her livelihood to Trentham, and she in turn owes hers to McCordle, who controls her allowance. In fact, almost the whole ensemble relies on Sir William, who is nicer to his dog than he is to his guests.
Altman does not shy away from opulence, but he balances it with the reality of what it takes to maintain the machine of comfort and good taste, and does it without delving too far into didactic upstairs-downstairs rhetoric. A shot of the formal table with various levels of crystal settings placed at least one foot apart is contrasted with in the next shot of servants' meal set for 12 in a room the size of a walk-in closet.
Genre-wise, Gosford Park is a mystery, but the genre has evolved since the popular Agatha Christie movies of the 1970s like Murder on the Orient Express and Death on the Nile. Of course, it maintains the same pretensions, secrets and luxuries, but Gosford's creators give the audience credit for understanding the Hollywood whodunit and have so carefully crafted and delivered the story within the scenes that there is no need for a tidy inspector recap. In fact, the movie places more than one fun and interesting twist on the whole aspect of the clever inspector. As with his other ensemble films like Nashville and Short Cuts, Altman allows the audience to piece together the various stories that permeate this family without feeling the need to overexplain.
Bob Balaban, who co-created Gosford, plays Weissman, a Hollywood producer who finagles his way into the party through the host's cousin, Ivor Novello (a real-life actor from the 30s played by Jeremy Northam). Balaban's character acts as a commentary on Hollywood's tendency to "capture" other worlds and cultures, when it really only captures what it wants to portray. During one of the dinner scenes, Weissman describes his project: to research English country life for a picture he's making called Charlie Chan in London (which was an actual film made in 1934). Weissman is so preoccupied with his important phone calls to L.A. that he misses the intricate plot being served up to him along with his specially requested vegetarian meals.
The best part about Gosford though, is that it's so damn funny. Not Farrelly Brothers funny, but smart, with wit that emerges naturally through the characters' subtle digs (Richard Grant, Emily Watson, Smith and Scott Thomas are particularly adept in this category) and uncomfortable (but not too kooky) situations. It also creates a comedic style visually with the inordinate number of zooms on bottles of poison, a bizarre knife counting ritual, and the excessive number of guns taken out for the "shooting."
So, sip on a Rob Roy, put on your jet-bead turban and faux-fox overcoat and venture out into the cold. It'll be the bees knees, I promise.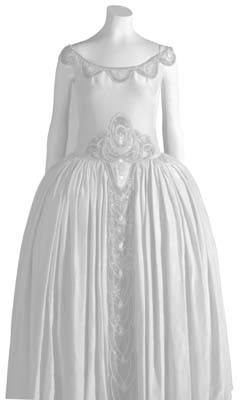 Film still courtesy of USA Films. Dresses courtesy of the Chicago Historical Society.